The drive from
Tasman National Park
to Freycinet National Park is filled with beautiful scenery. The road winds up into the hills and along a river before being exposed to the stunning coastline of the Tasman Sea.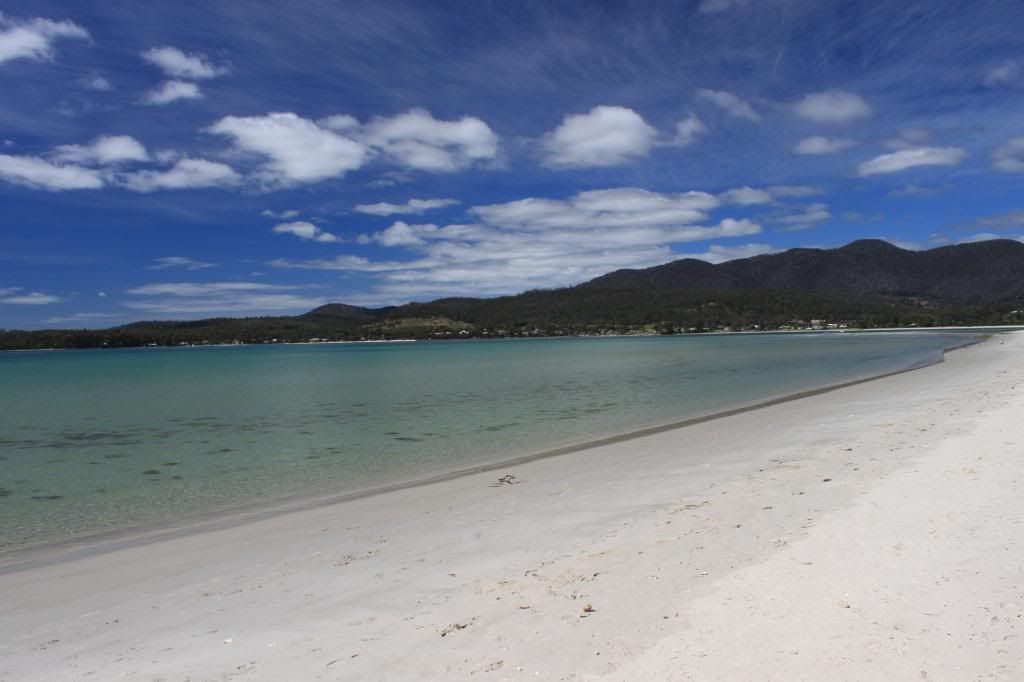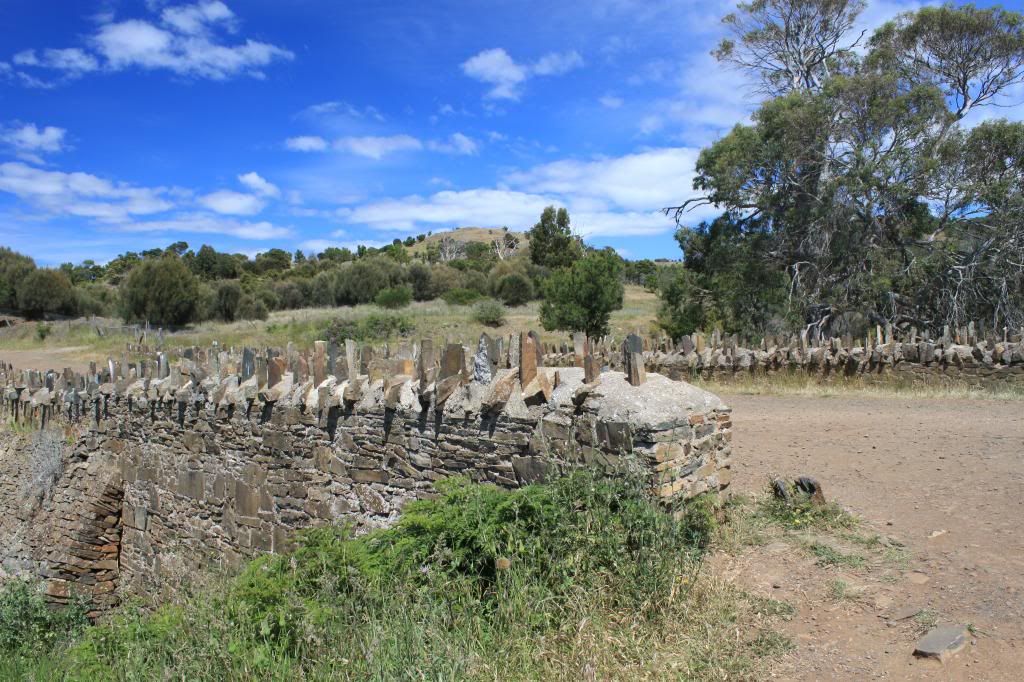 Spiky Bridge, built by convicts in the mid 1800's
Beware of wildlife so strong that it can lift your car!
Once arriving in Freycinet National Park (pronounced Fray-sin-ay), we secured a campsite at Richardson's Beach. This site was actually closer to the beach than our site the night before, but there were fewer waves because the waters are more protected by land. Regardless, another sweet place to pitch a tent for $13!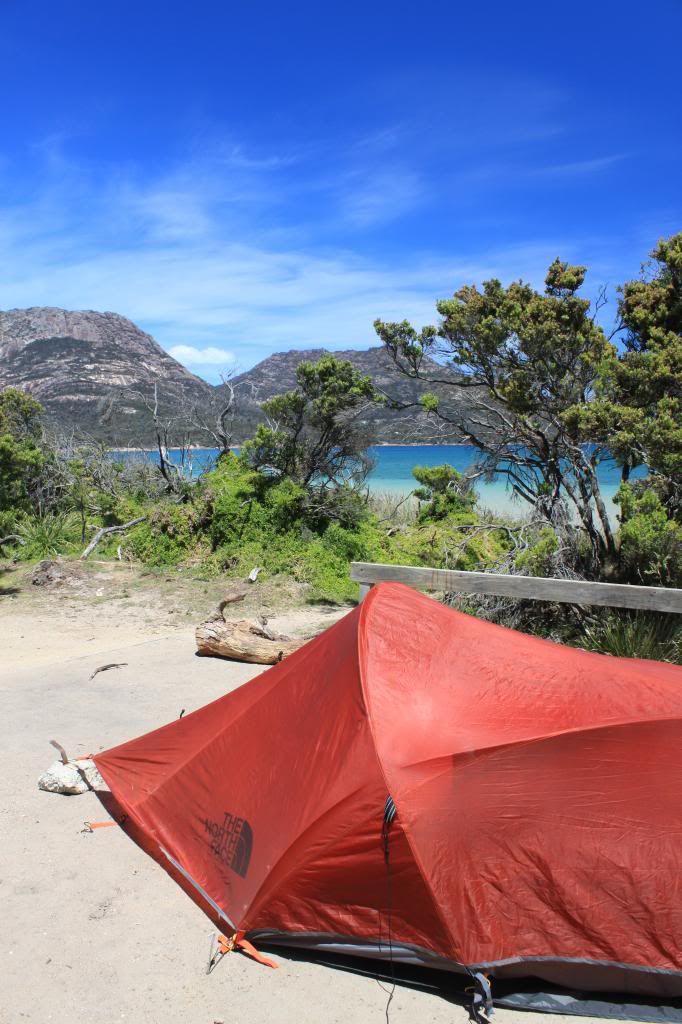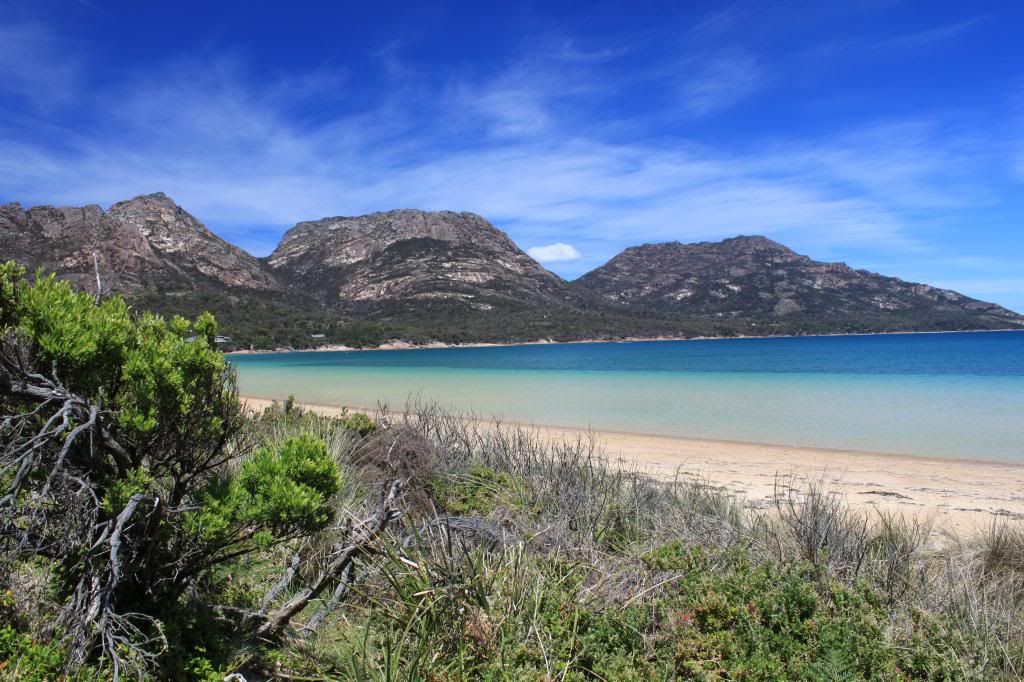 A little after midday, we set out to hike the Mt Amos track. Mt Amos is part of the granite mountains (also known as the Hazards) which tower above the water, providing spectacular views. The hike required rock scrambling for much of the way up (for this reason it cannot be hiked in wet or rainy conditions...so fortunately for us it wasn't raining) and is very steep in portions, but the end result is extremely rewarding!
The large beach on the right is Richardson's Beach, where we camped.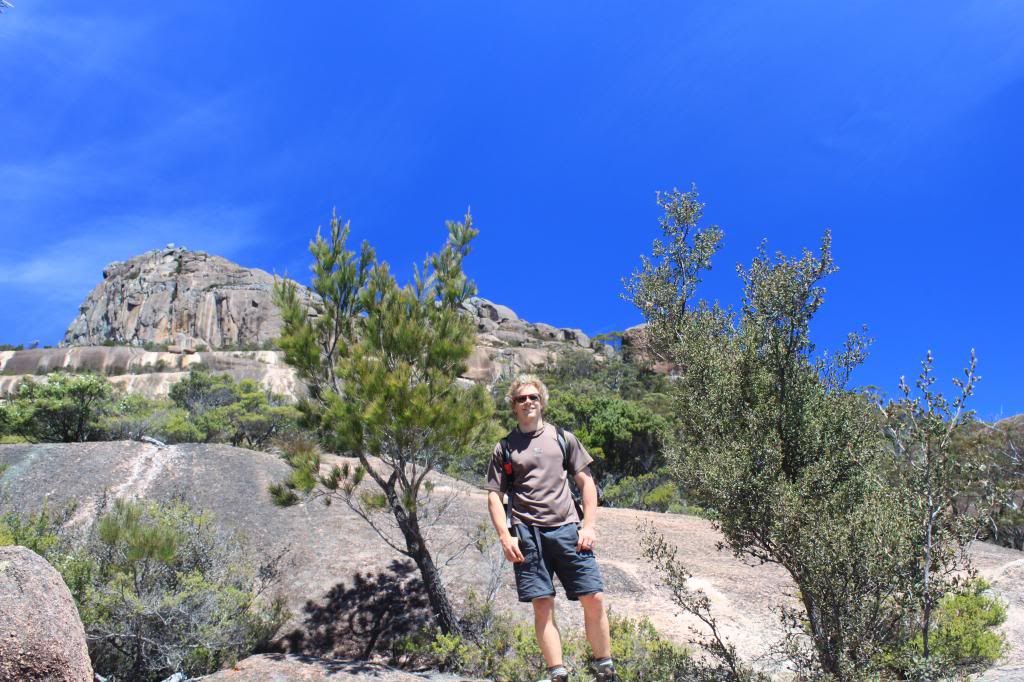 Getting closer to the top...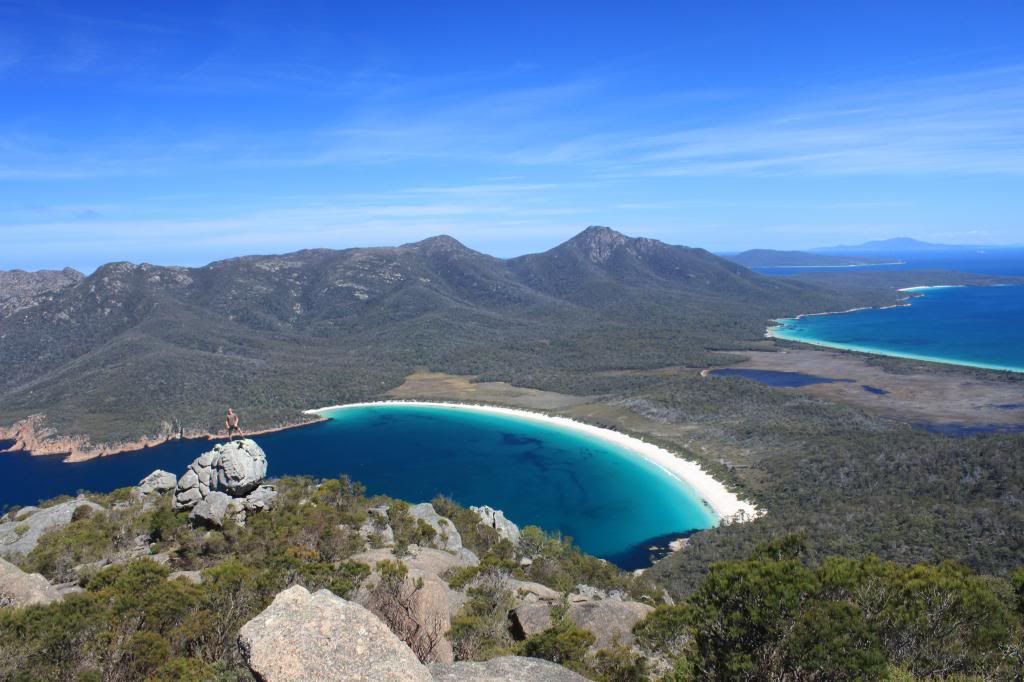 ...to be rewarded with this amazing view! Can you spot Erik in this picture?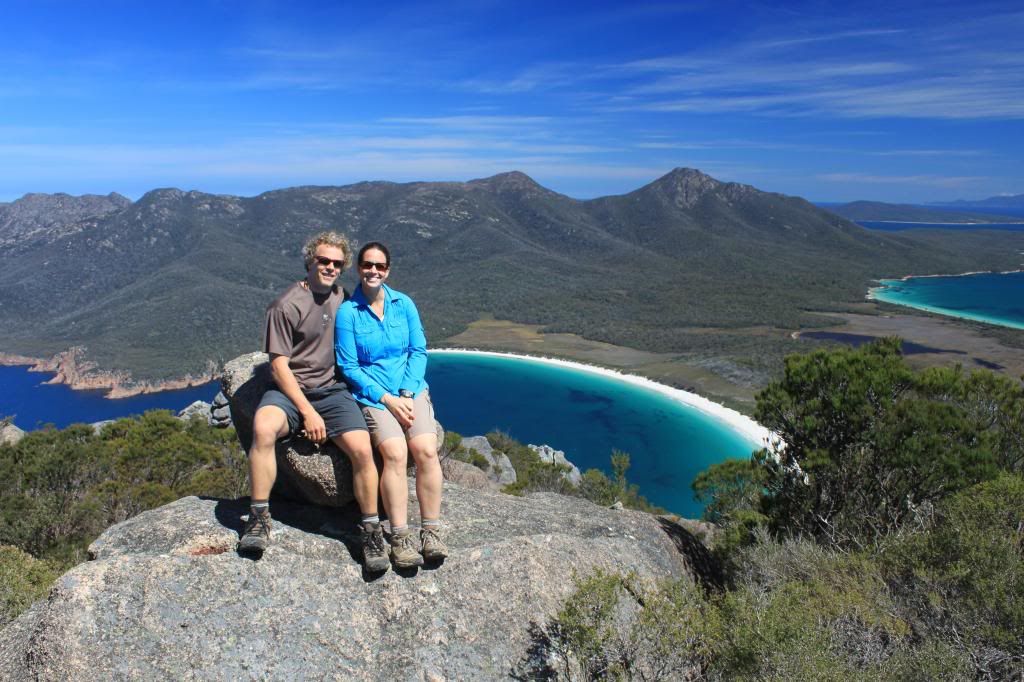 Self-portrait thanks to the timer, because we were the only people at the top!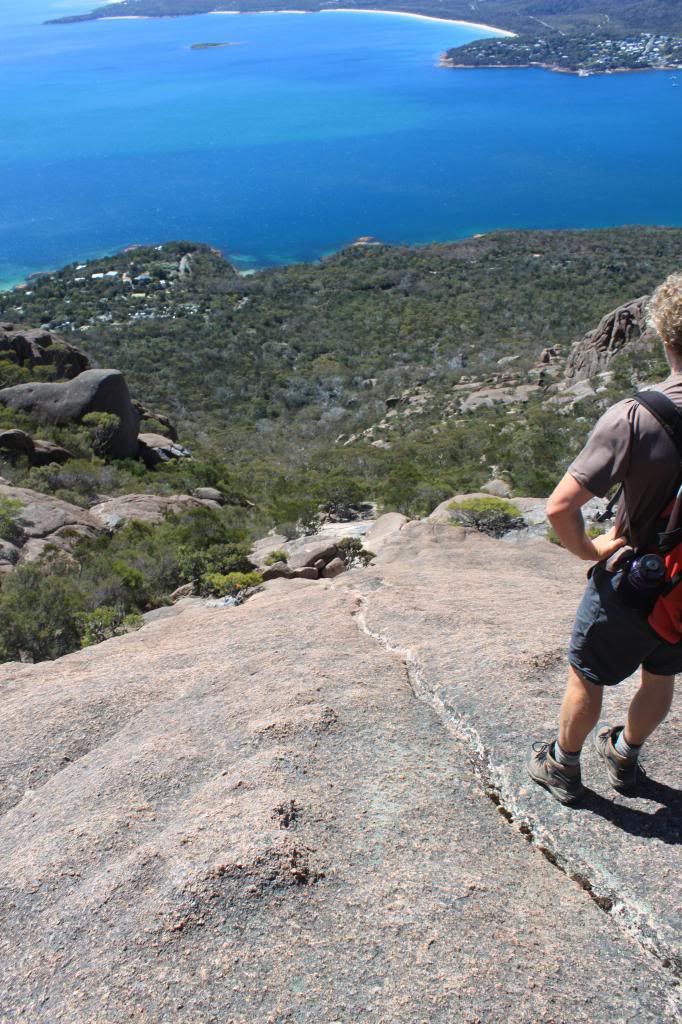 The way down was just as challenging if not harder than the way up!
After the Mt Amos hike, we decided to tackle the Wineglass Bay track so that we could actually put our feet in those waters we had seen from above. That hike is much less challenging, but still hilly, as it takes you up to a lookout point before descending to the water below. Our friend Andrew had told us that we must swim in Wineglass Bay despite the fact that it would be freezing cold. Only one of the Hansons was crazy enough to attempt that and it was NOT me!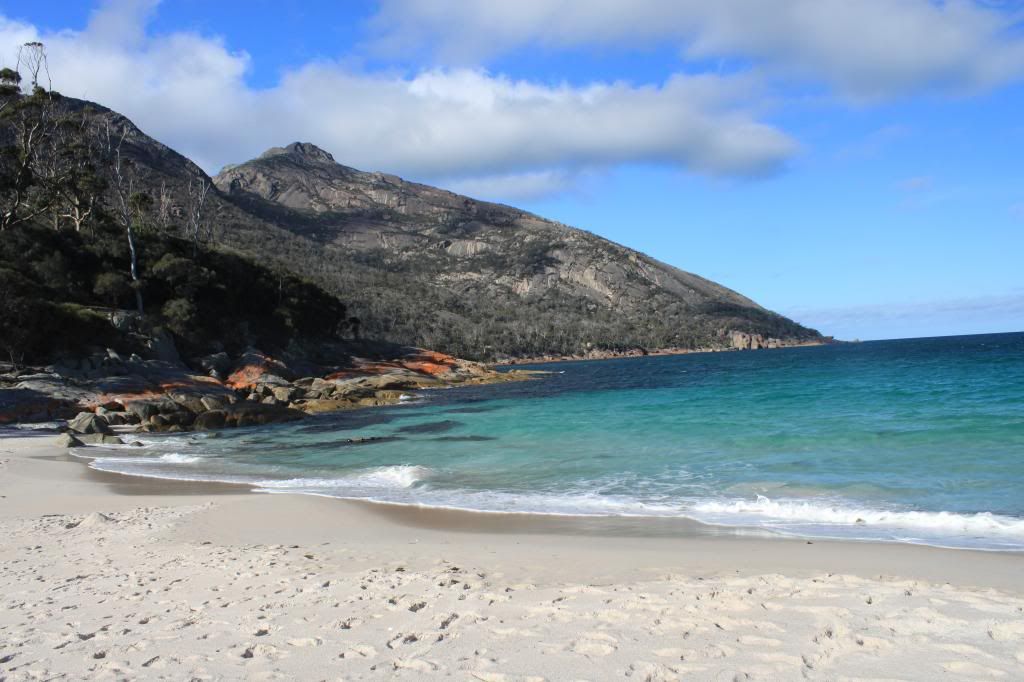 I think that could be Mt Amos in the background
A quick dip in Wineglass Bay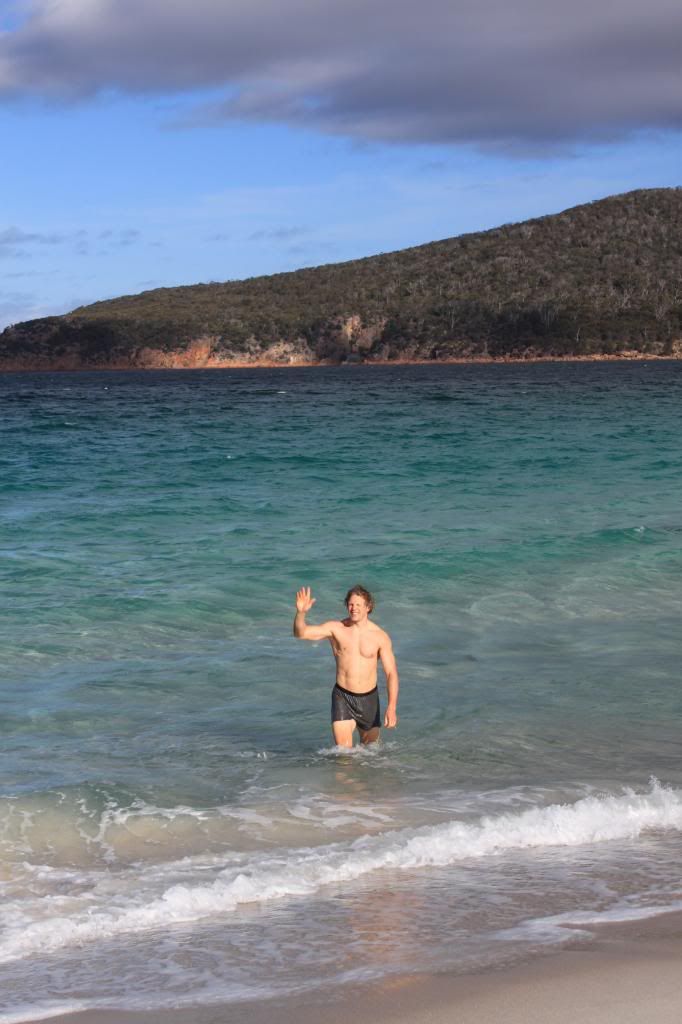 Don't let the smile fool you...he was freezing!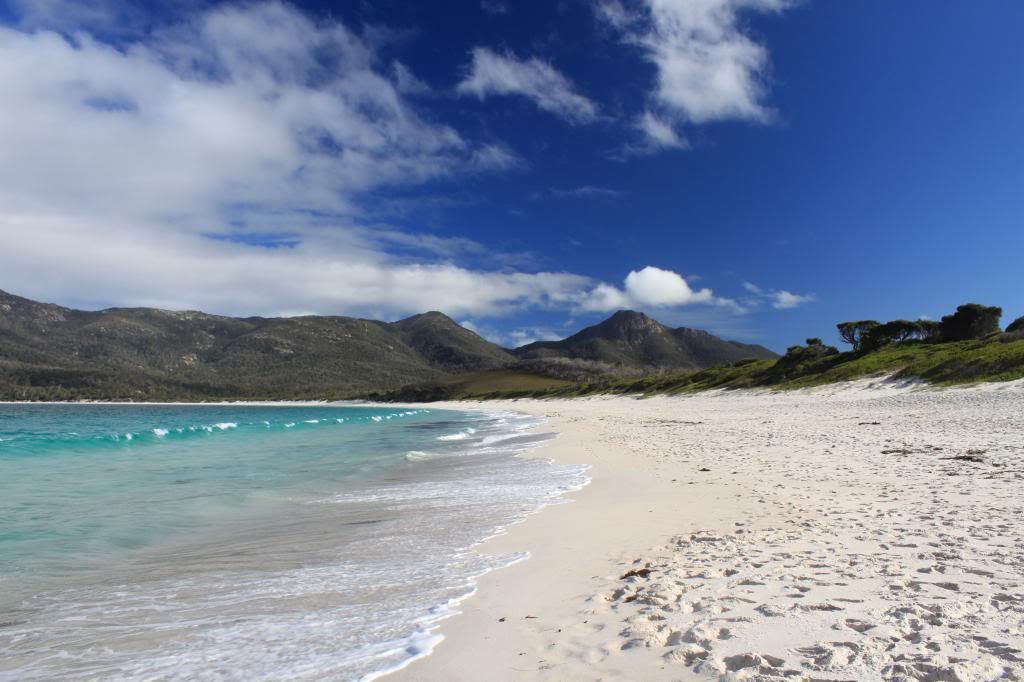 Gorgeous stretch of beach!
Look who was waiting at our car when we returned from our hike!
At that point it was dinner time, so we drove a few minutes into the "town" of Coles Bay, where we found one restaurant open for dinner at 7pm. The place was called Tombolo, and they had a wood fired pizza oven, so we tried the night's special, a smoked salmon (Tasmanian salmon, of course!) pizza. The food was quite good and the employees were all very nice, and I would certainly go there again if we ever make it back to Coles Bay. We headed back to the campsite for the night, where we made friends with our neighbor, an Aussie from Melbourne who was just beginning a three week trip around Tassie. He generously shared beers with us (Iron Horse, a local Tasmanian Brewery) while we all enjoyed a gorgeous sunset.