Fiordland National Park, where
Milford Sound
is located, is one of the top tourist destinations in New Zealand, attracting around 1 million visitors per year. We could not leave the South Island without seeing Milford Sound, but we did have to decide "how" we would explore the area. Essentially, we could get on one of the various boat tours that cruises around Milford Sound OR we could kayak around the sound. The latter option obviously would involve more work, but we thought that it would be a more interesting and unique way to see Milford Sound. Unfortunately, unlike our
Abel Tasman kayaking experience,
we could not find a way to rent kayaks unguided around Milford Sound. Therefore, we booked a tour with a group, Fiordland Wilderness Experiences. I actually wanted to book with a different company, Roscos, but they were fully booked by the time we got around to organizing our trip.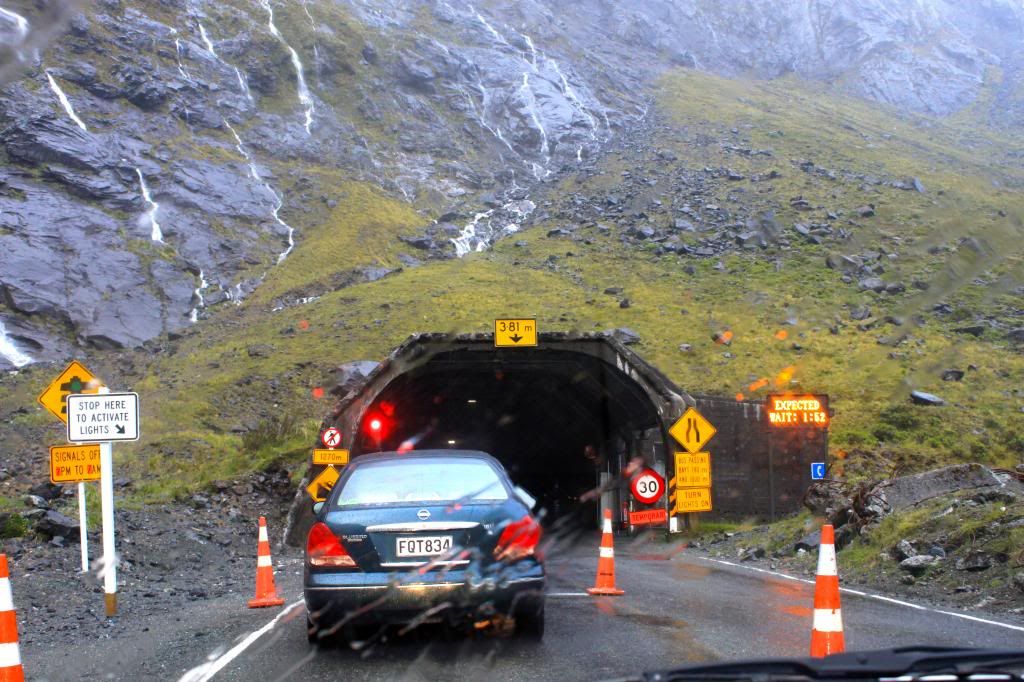 This is the tunnel to get to Milford Sound, Homer Tunnel. One way. No lights. Unpaved. Looks like it was just dug yesterday. It was quite an experience to drive through!
It rained the entire way to Milford Sound and it was still raining when we arrived at the lodge where we were meeting our group. However, our guide, Luke, assured us that rainy conditions were common and were, in fact, some of the best conditions due to the effect of rain on waterfall viewing. We loaded up into some cold weather gear and set out in our kayaks in a group of 9, including Luke. The first hour or so was the best, in my opinion. We got to kayak to the base of Lady Bowen Falls, where we could actually feel the falls pushing us back in our kayak. The next few hours were spent kayaking around the sound, enjoying awesome views of Mitre Peak, waterfalls, and an occasional seal.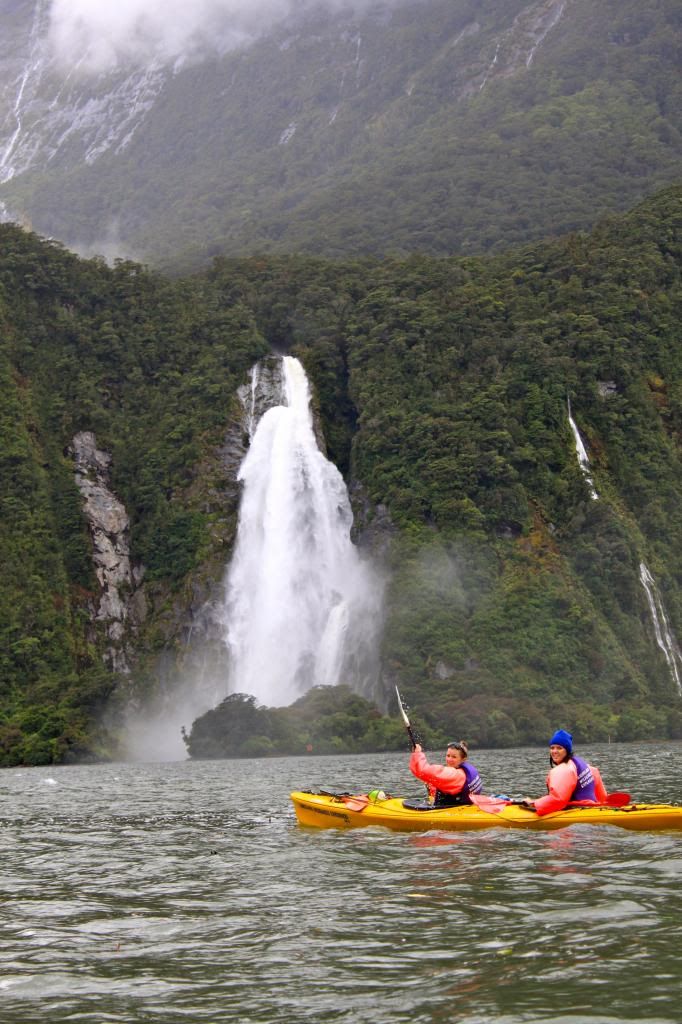 Carlie and her kayaking partner, Emma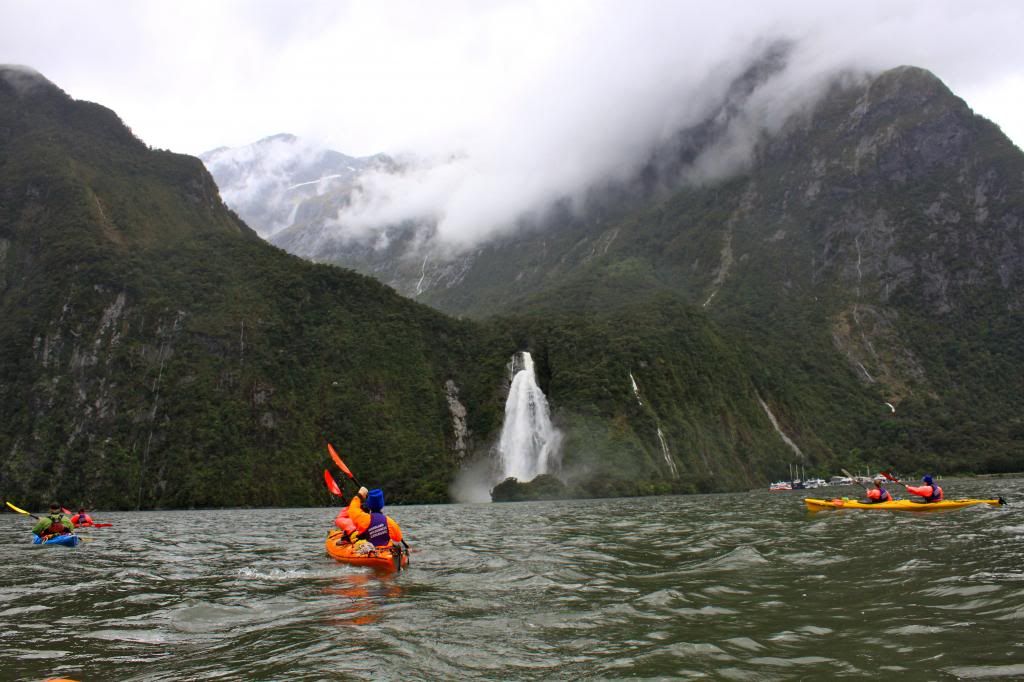 Our group heading towards Lady Bowen Falls
The sensation of being pushed back by the waterfall was crazy!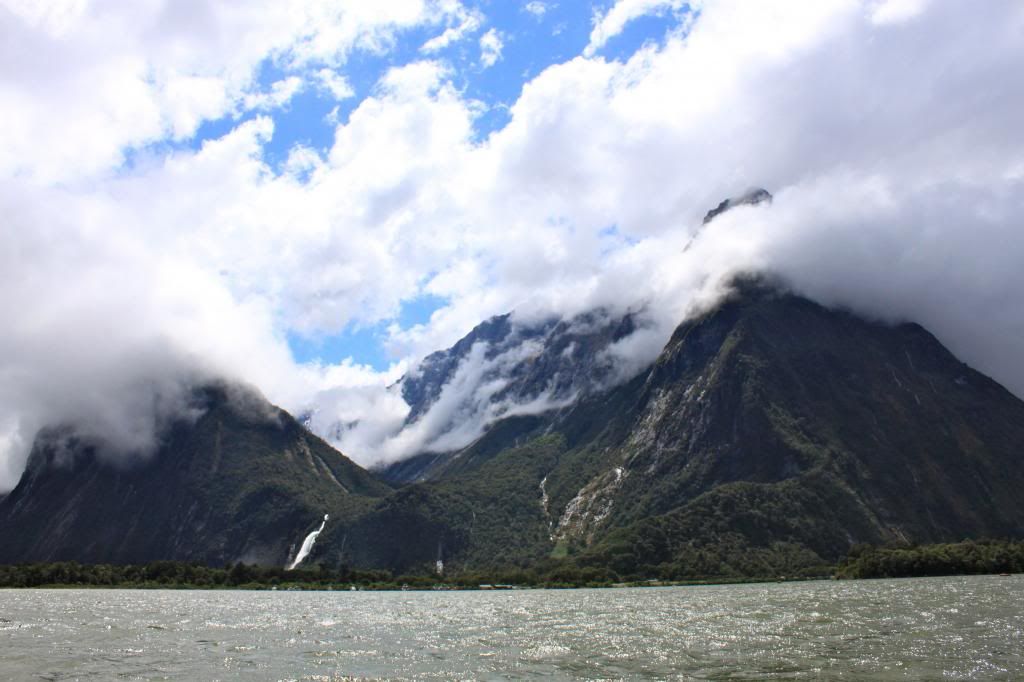 Many, many peaks...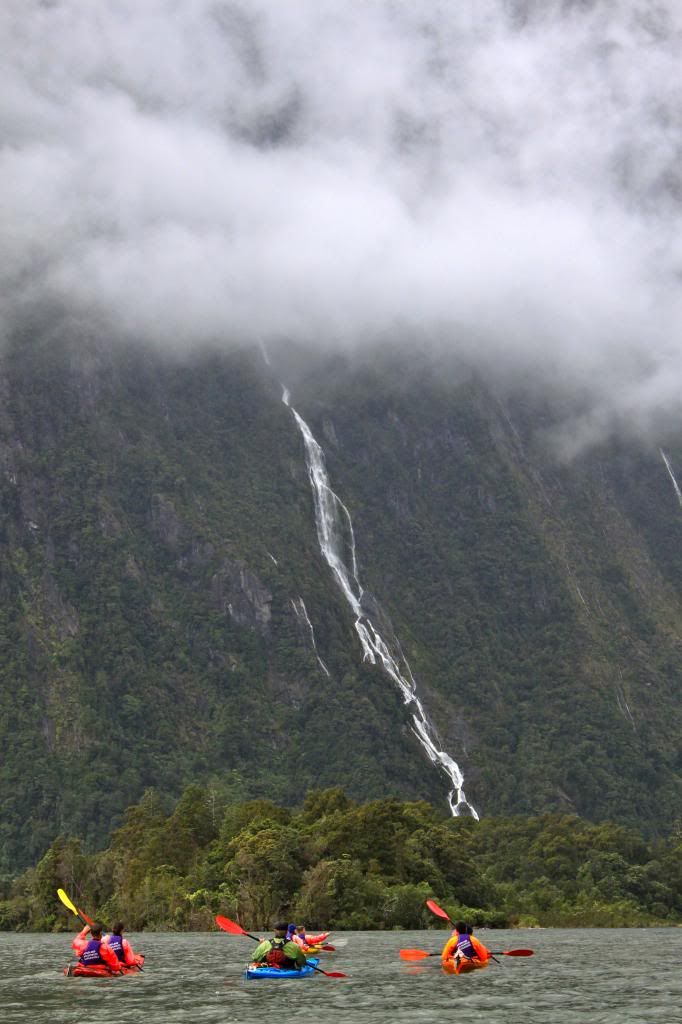 ...and lots of waterfalls!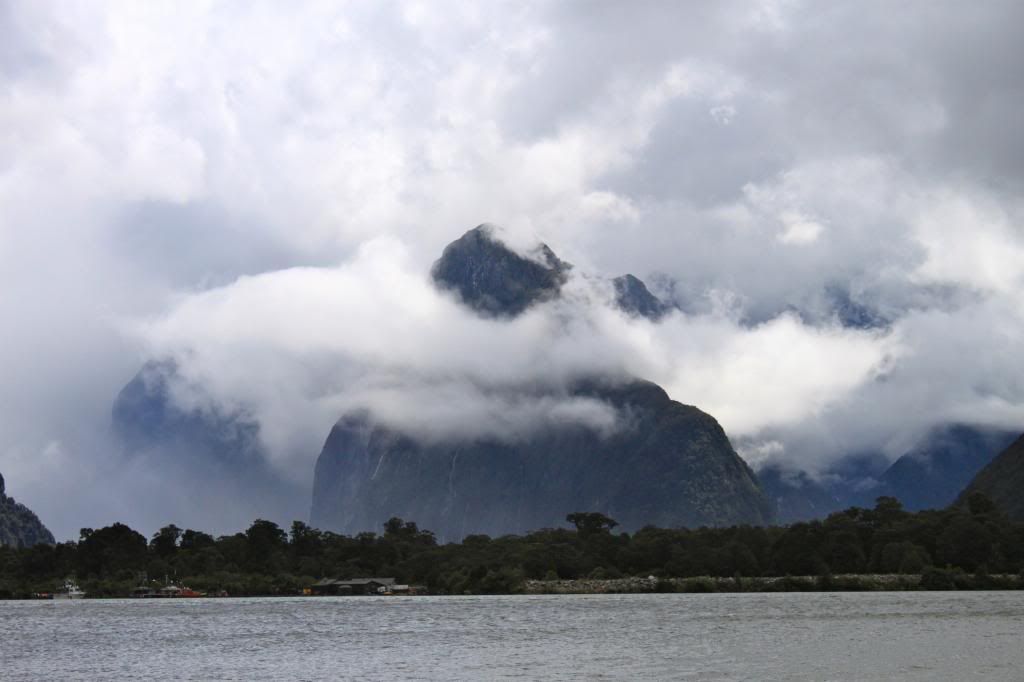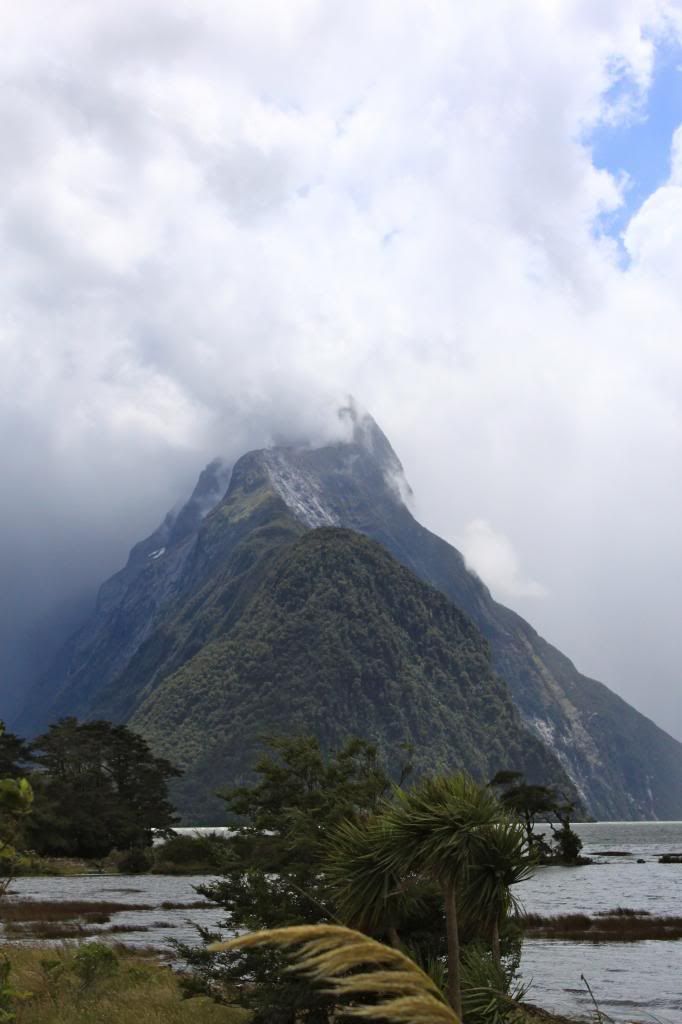 After we had been out for a few hours, the wind started to pick up and the conditions on the water were getting a bit rough. At that point, Luke decided that we would form a sail and try to sail back to our starting point. We have some hilarious video of this on the GoPro, but I have yet to go through the videos from our NZ trip, so I might have to share it at a later date! We formed a line of 4 kayaks, and the people on each end held one side of the sail, allowing us to glide without having to paddle. It was fun but it was freezing, because we were getting splashed by cold water and now that we were no longer paddling, we were not actually doing any work to generate body heat. Fortunately by the end of our trip, the sun was coming out, which helped to warm us up! We said goodbye to our group and hit the road back towards Queenstown, stopping along the way to check out a few more sights.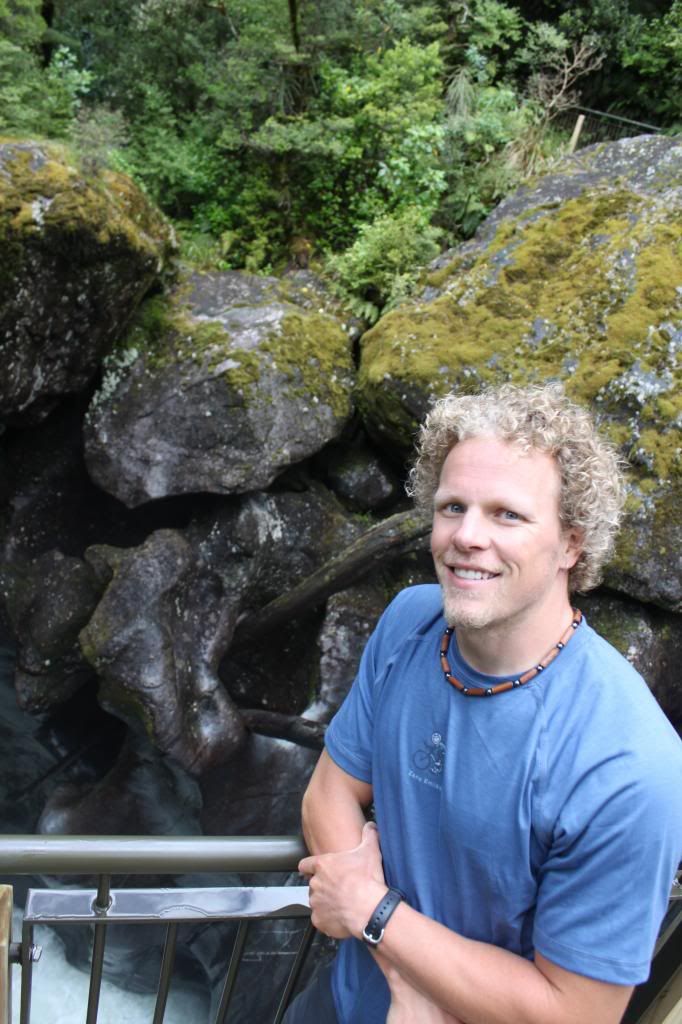 Erik at the Chasm, a spot where water has carved funky holes in granite rocks.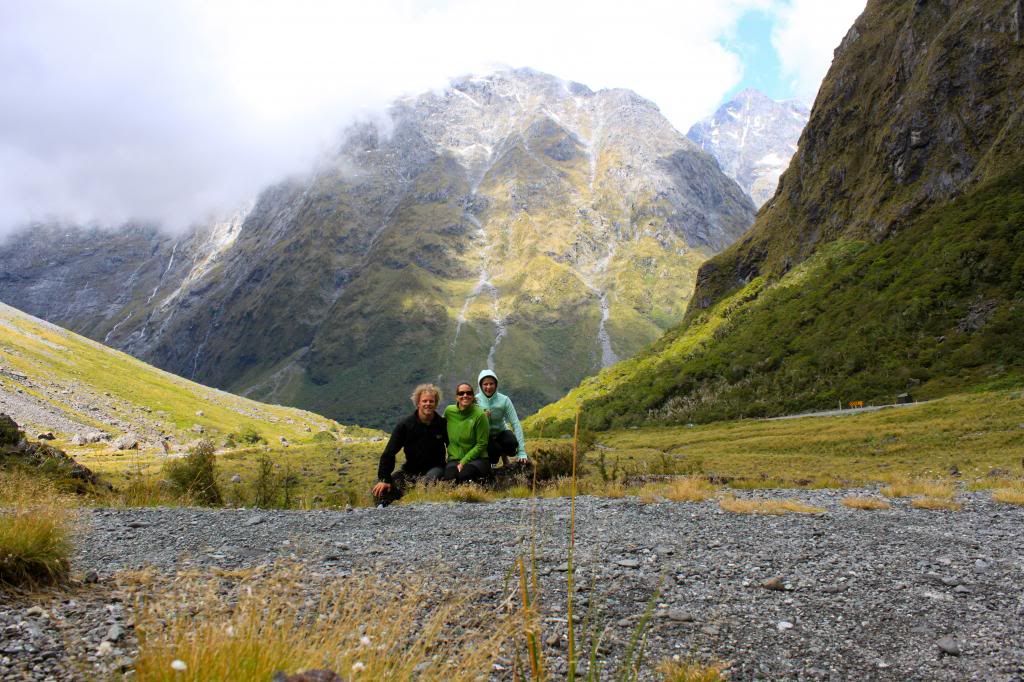 Family!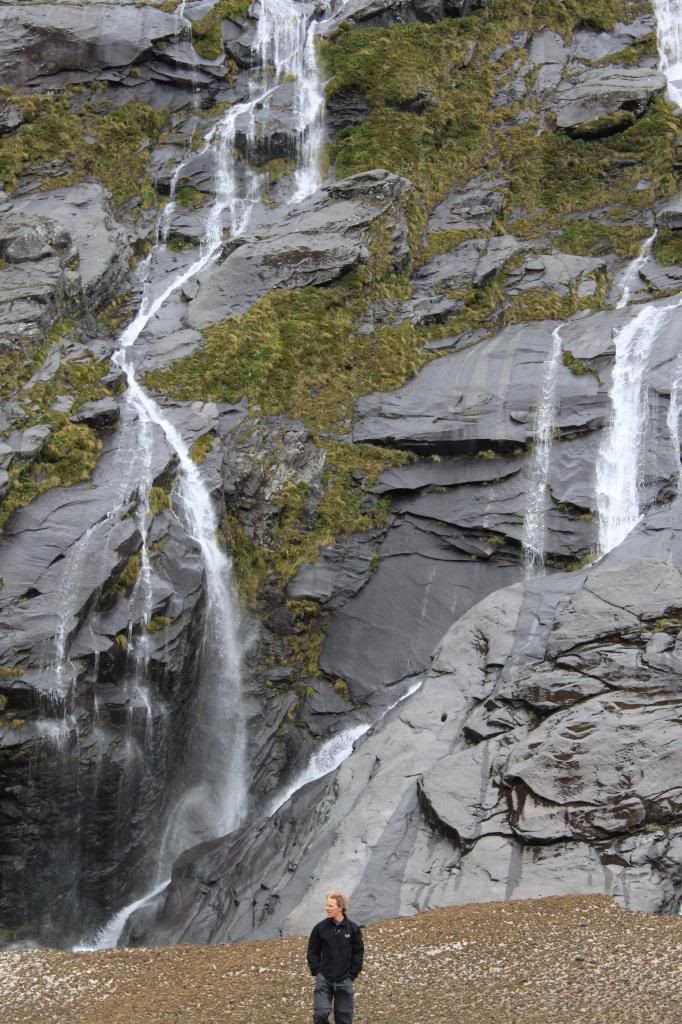 More waterfalls, this time right next to the road.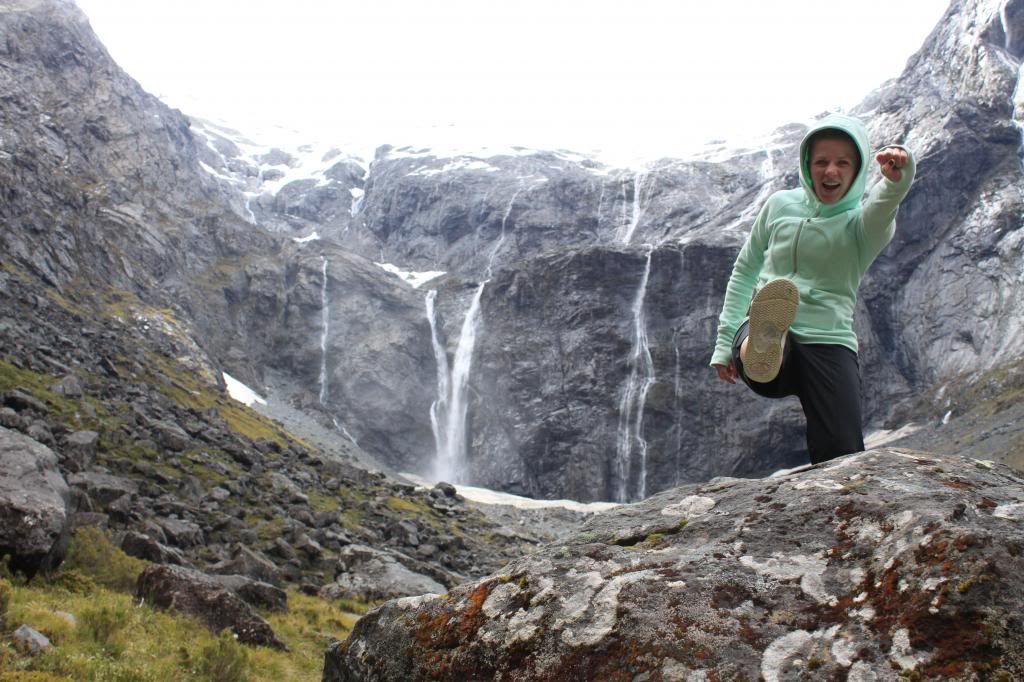 Carlie loves everything about Milford Sound!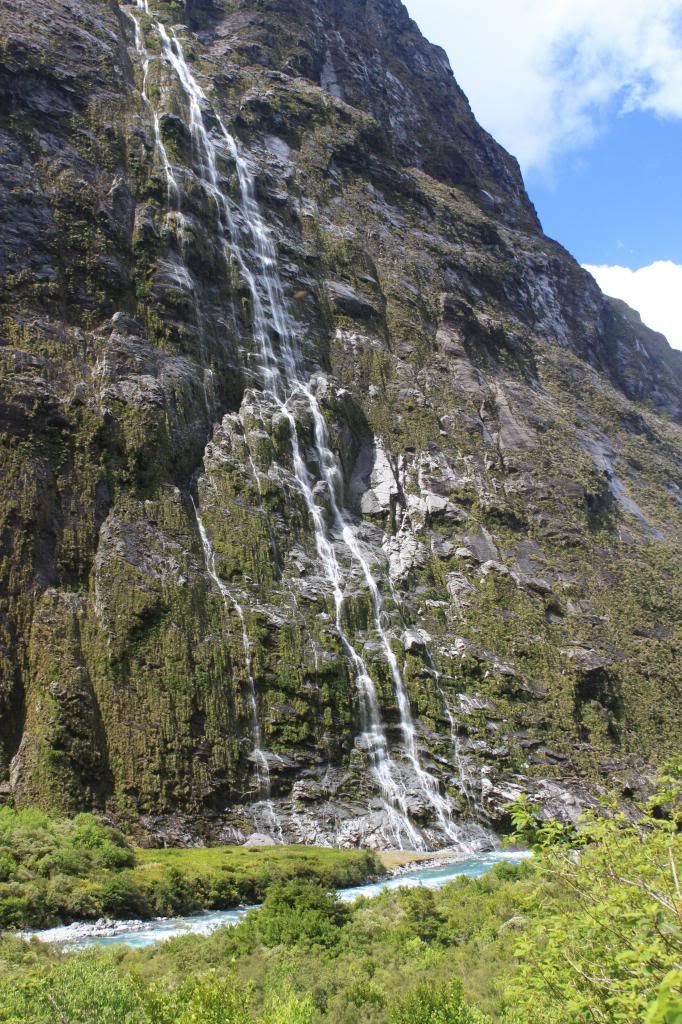 Pretty sweet views on the drive out!
About 15 minutes into our drive, we ran into stopped traffic. A tree had come down in the middle of the road and it ended up taking about 2 hours for them to get machinery in to move it! Fortunately, with the sun out, we were able to set up all of our camping gear in order to let it dry. That night we stayed in Queenstown at
Bumbles Backpackers
, a great place with fantastic lake views.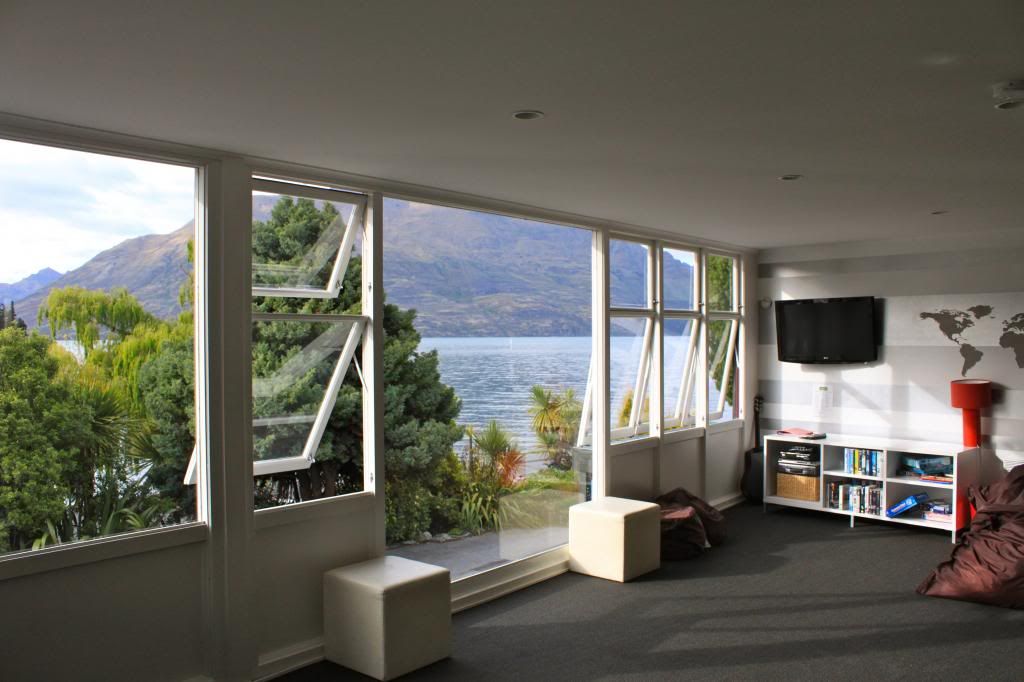 View of the lake from the lounge at Bumbles
We were hoping that bungy jumping would be up and running for Carlie, but the water levels were still really high so that was not happening. Since that was the case, we decided to head to Wanaka for a second time, basically to spend some time with our friend, Mark.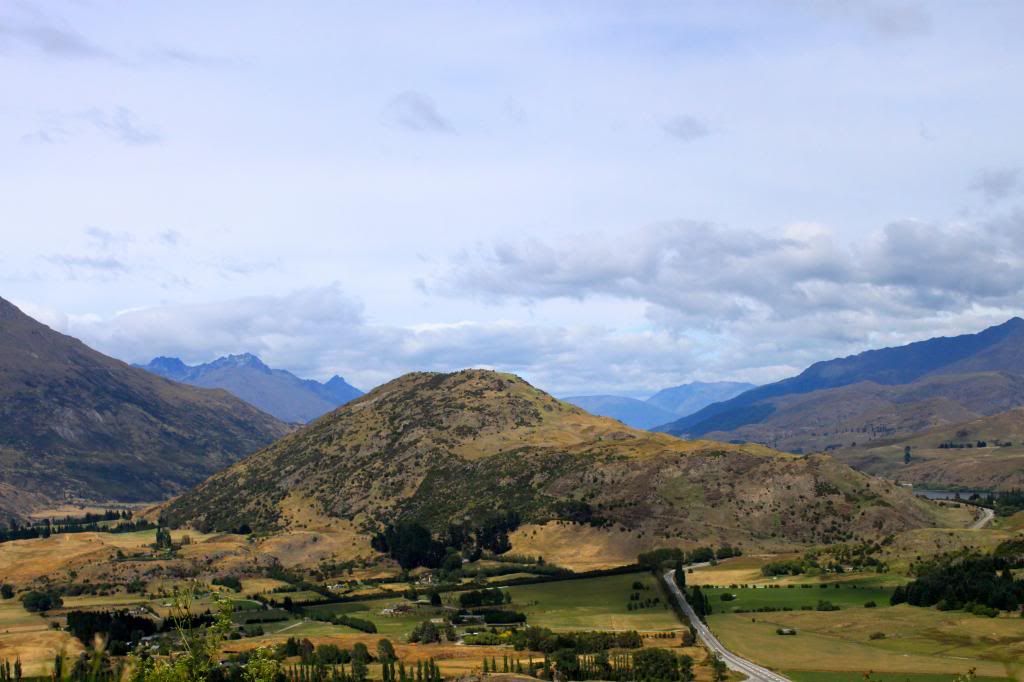 Looking back towards Queenstown on the drive to Wanaka.
Queenstown. See the plane landing? This must be the coolest airport to fly into...surrounded by mountains!
Mark hooked us up with an amazing deal at the resort that he manages, where we got to enjoy working out at a fully equipped gym, swimming in the pool, and relaxing in the hot tubs. If you ever get to visit Wanaka, I highly recommend a stay at Oakridge Resort!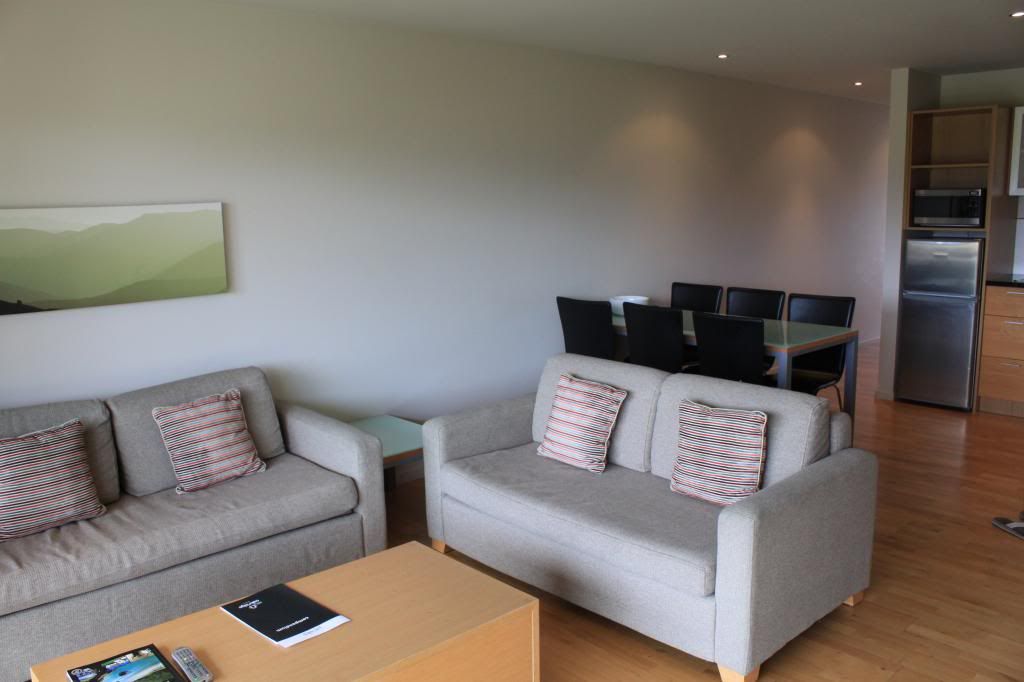 Living area and part of the kitchen in our 2 bedroom apartment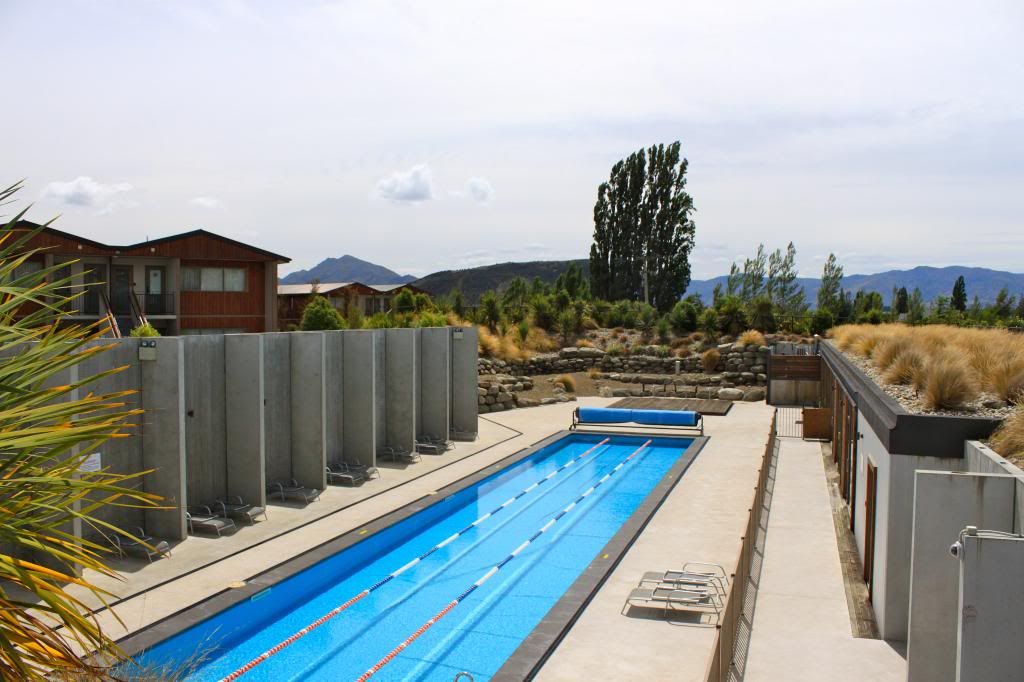 Lap pool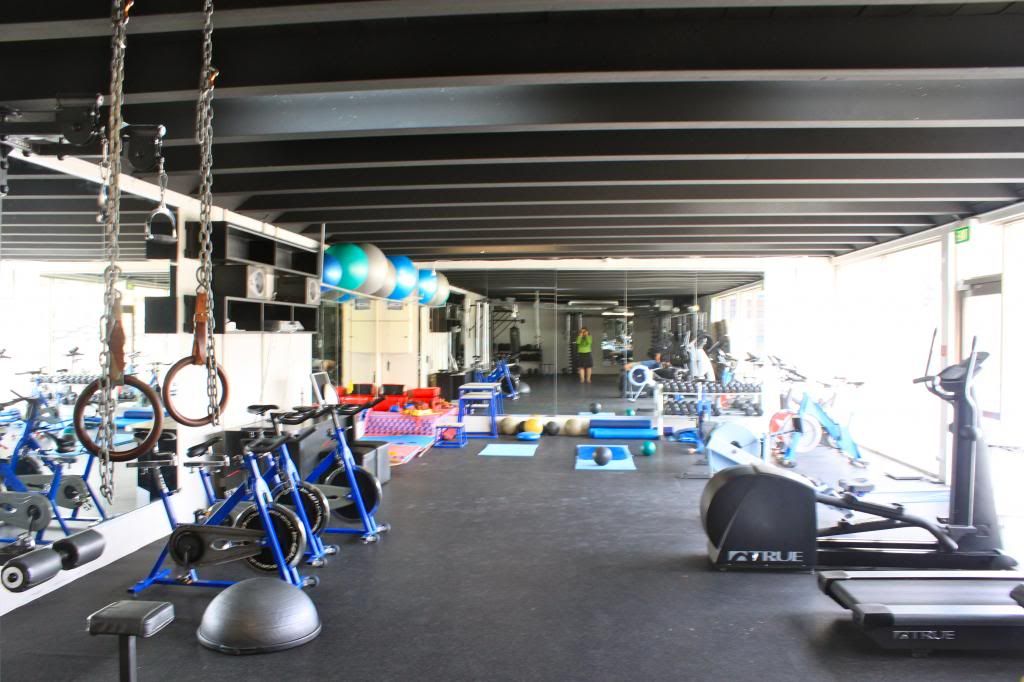 The best-ever hotel gym. Squat racks and pull up bars are behind me.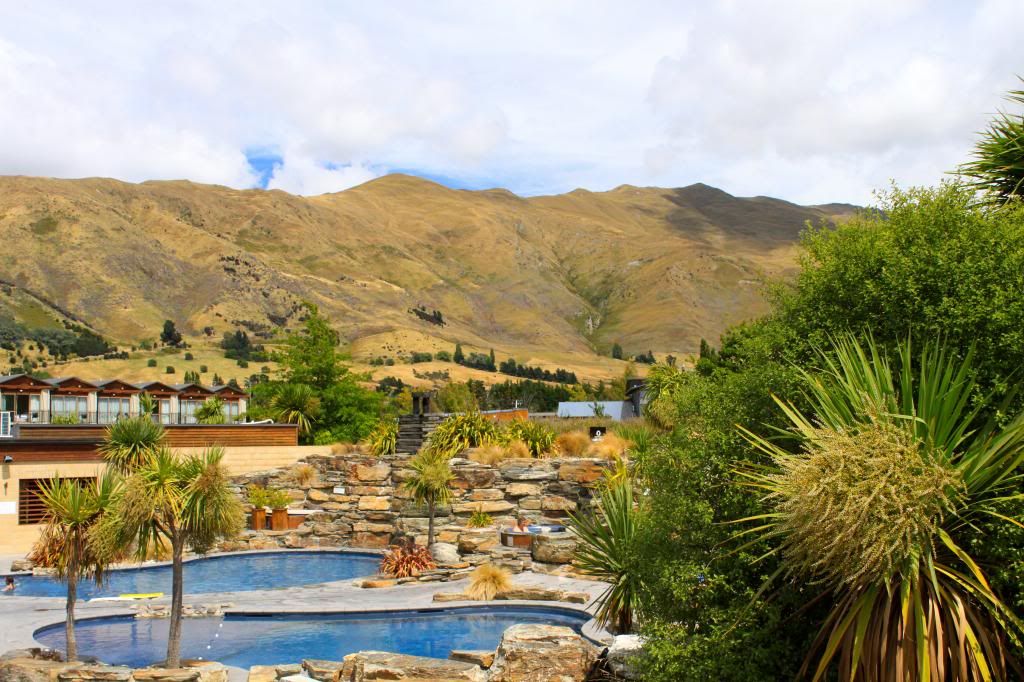 Who wouldn't want to spend time in those pools/hot tubs? There are 7 tubs to choose from, by the way!
That evening we went to see Skyfall (the new Bond film) at a small movie theater called
Rubys
. At Rubys, you order drinks before the movie, tell the bartenders when in the movie you would like your drinks delivered, and then they bring them to you! Also, you sit in large leather recliners in a small theater that seats about 25 people. It was a really unique movie-watching experience!
In the morning, we enjoyed the scenery in Wanaka, as Erik headed out for a mountain bike ride while Carlie and I took a long walk around the lake. Around midday, we said goodbye to Mark, our awesome accommodation, and the fantastic town of Wanaka before hitting the road to the West Coast.