Whew! I am really slacking lately with getting these NZ posts up, but I'm hoping to focus on doing that over the next few days since I am officially on a short break from school. I am sure I have mentioned this before, but in Australia school is year-round, with 3 short breaks (about 2 weeks each) and one longer summer break of about 6 weeks. Term 1 ended on Thursday, so school will start again on April 15th for me, though I do have a professional development trip for work during that time and I will still be teaching at the uni as well. In other recent news, Erik and I just returned from a short (but awesome!) trip to Western Australia, so I hope to be able to share some photos and details from that trip soon. In addition, Max went back to the States to interview for a job in Colorado, did some skiing in the mountains, and then decided to come back to live with us for a little bit longer, so we are back to a household of 3!
When I left off with the NZ posts, we had just spent our first night on the
South Island
in the funky town of Nelson. I was highly anticipating the next part of our trip to Abel Tasman National Park for some sea kayaking. This is part of the trip that I handed off to Erik for planning purposes and he did not disappoint!! Abel Tasman is very popular in the summer for both kayaking and hiking (it boasts some of New Zealand's best and most consistent weather), and since this part of the trip was not planned until just a few days before our arrival, many of the campsites were already booked out. That did not phase Erik, as he simply looked at the map and calculated how far he thought we could kayak each day and found campsites that would suit us. Meanwhile, I was freaking out and telling him that maybe we should do a guided tour. Thank goodness he convinced me otherwise, because exploring Abel Tasman on our own was definitely the way to go.
The map above is similar to the one that was given to us before we began our sea kayaking adventure. We started in Marahau and paddled up to Observation Beach, where we camped the first night. We actually went all the way to Anchorage Bay on the first day, because I wanted to hike part of the Abel Tasman Coastal track. Many of the campsites are boat-in only, so they can only be reached via the water. Some of the sites are hike-in as well, but there are not any sites that people can drive to, which tends to make the campsites less crowded and much more peaceful!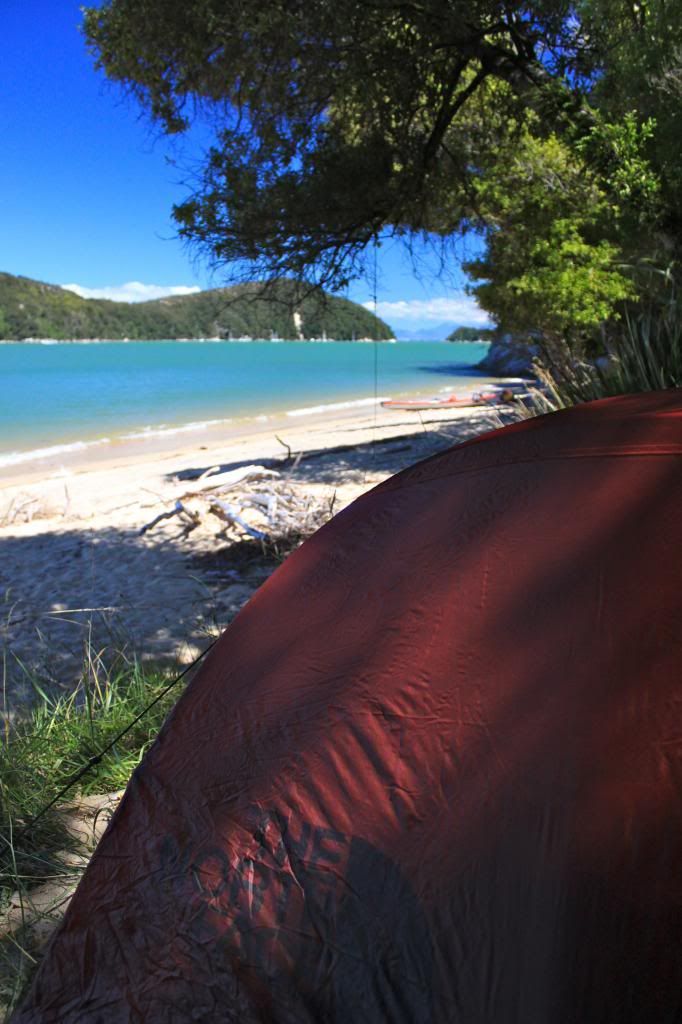 We accidentally camped in the day-use area, so we had the entire beach to ourselves!
Anchorage Bay
Cleopatra's Pool. You can actually slide down the rocks where the water is coming down!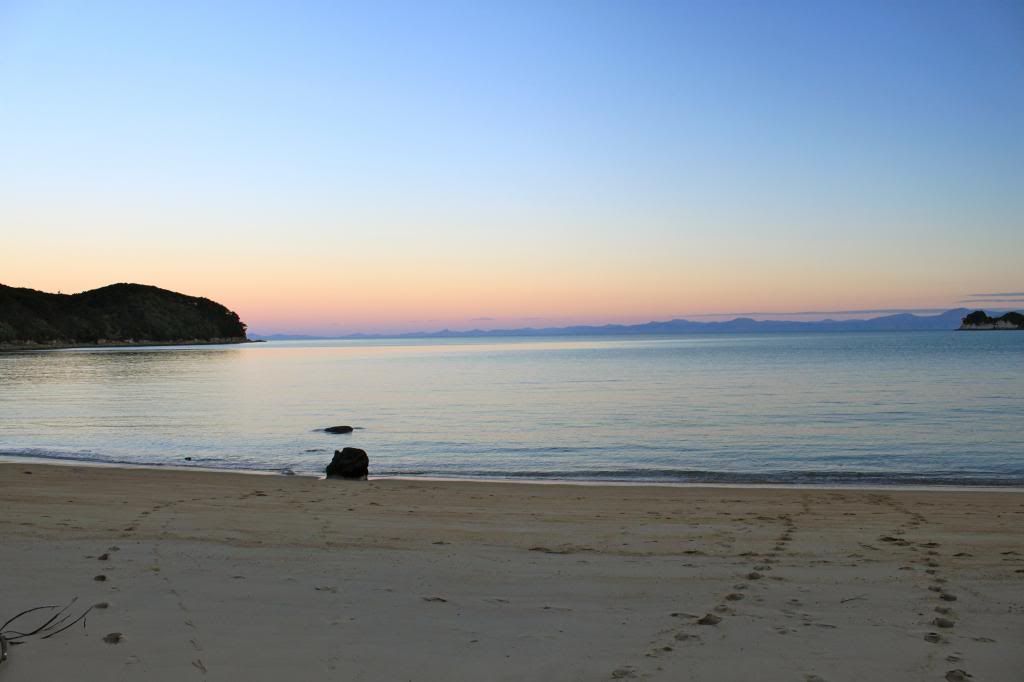 Sunset views from the tent...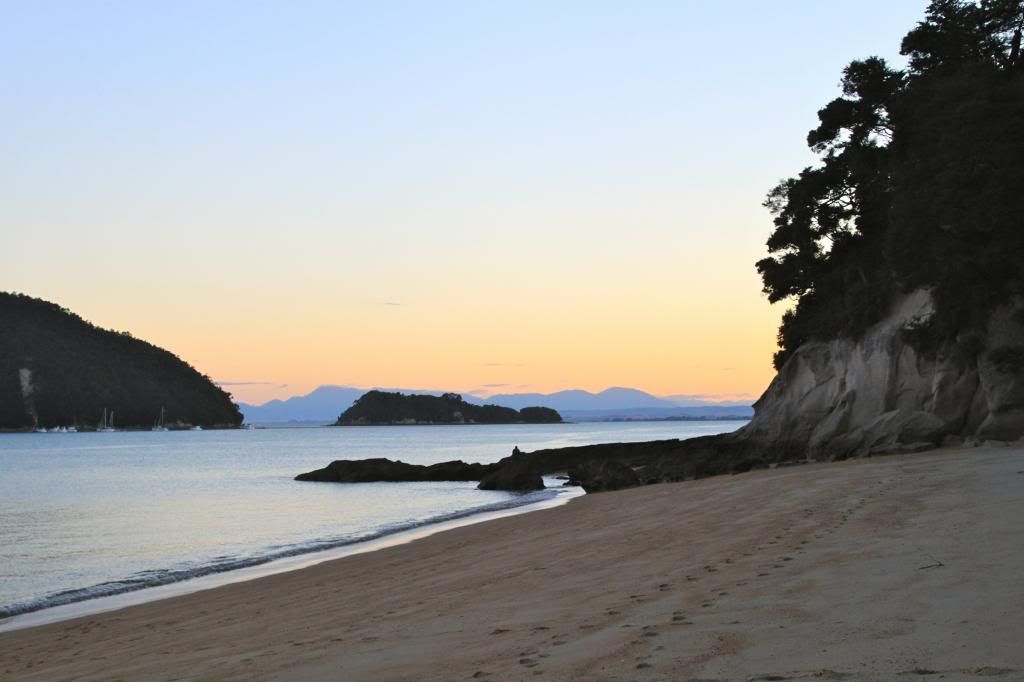 On the second day, we kayaked up to Bark Bay, where we camped and also hiked a bit of the walking track. We saw our first penguins and seals while kayaking on that day! Abel Tasman has some of the most drastic tides in the world, and we have evidence of that in the pictures below.
Penguin!
Absolutely gorgeous beach (and hubby!) at Bark Bay, just a few steps from our tent!
We were kayaking through these waters in the afternoon...


...but by dusk all of the water was gone, leaving the boats dried up!
On our last morning, we actually kayaked north first, because we wanted to kayak around Tonga Island to see the seals (we learned later in our trip that they are technically sea lions because they have ears). We did have the chance to see a few seals the previous day around Pinnacle Island, but that was nothing compared to what we would experience at Tonga. The number of seals on Tonga was much greater, and they seemed to be more active as well. Seals were hopping off of the rocks and swimming right in front of, or in one case, right next to our kayak! I've left the sound on the video so that you can see how surprised we were (well, how surprised I was!), when one seal swam next to our kayak.
Seals on Tonga Island
from
Ashley Hanson
on
Vimeo
.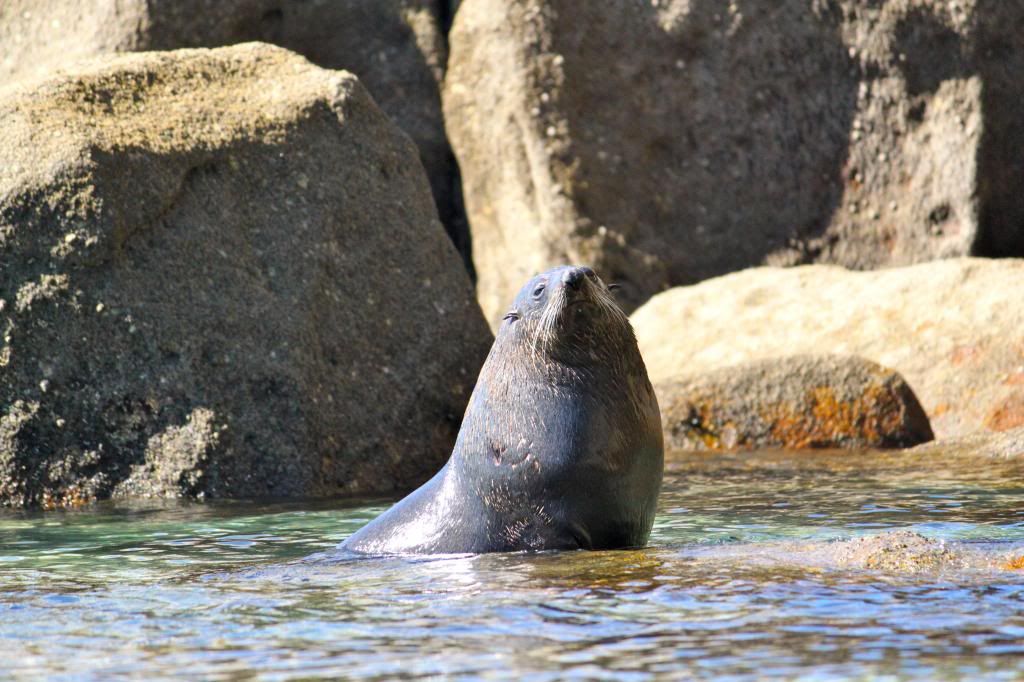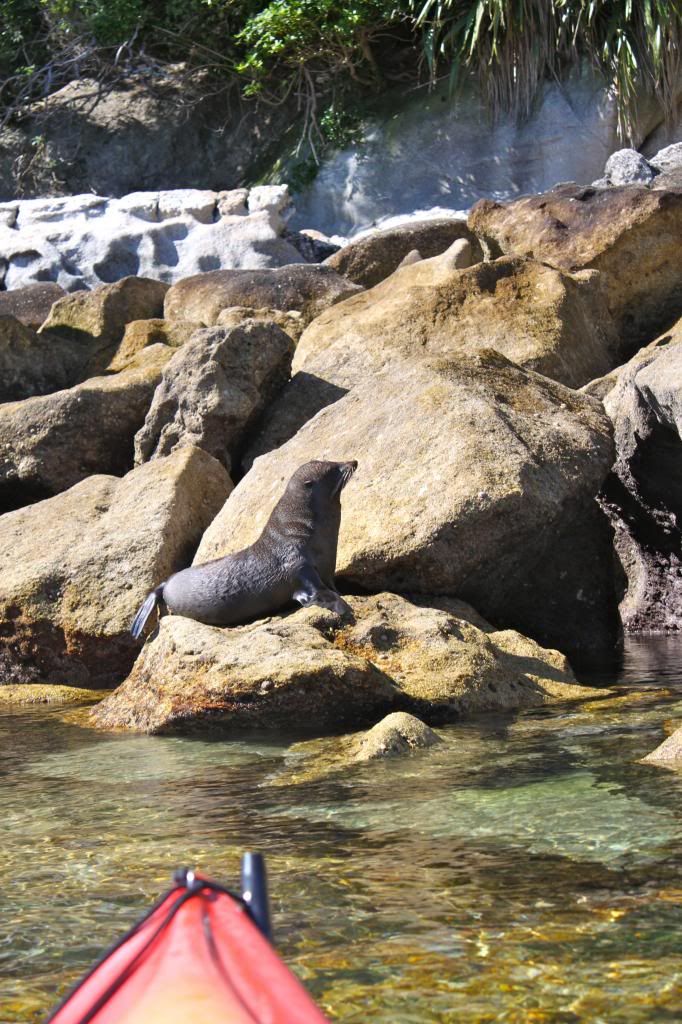 We then started our journey back to where we started, enjoying a slight tailwind and taking in all of the beautiful sights of Abel Tasman.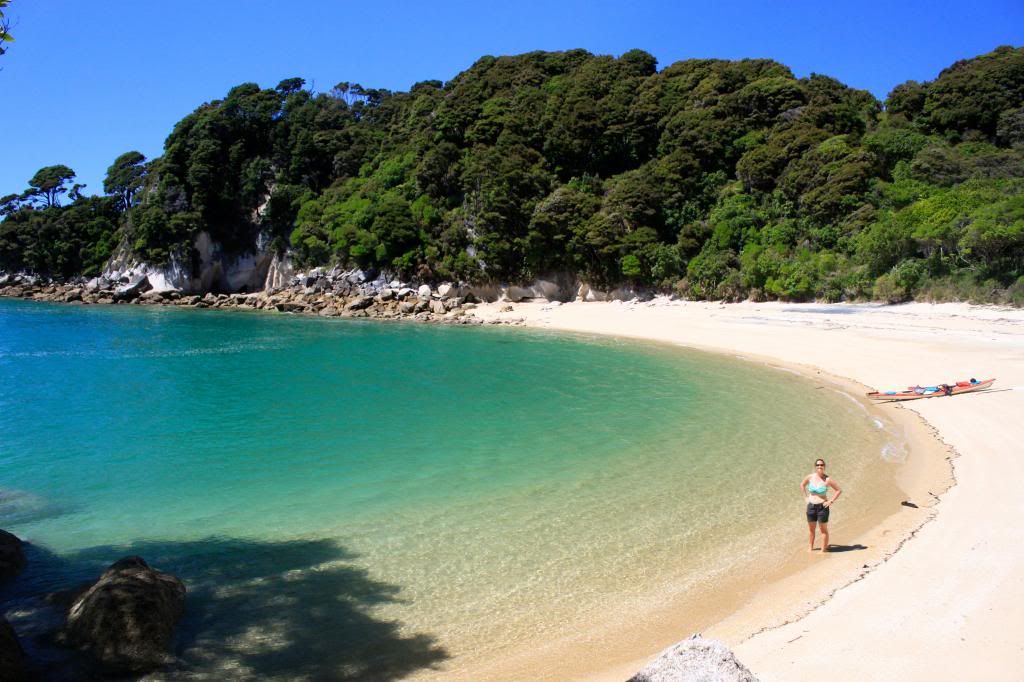 Not a bad spot for lunch, huh?!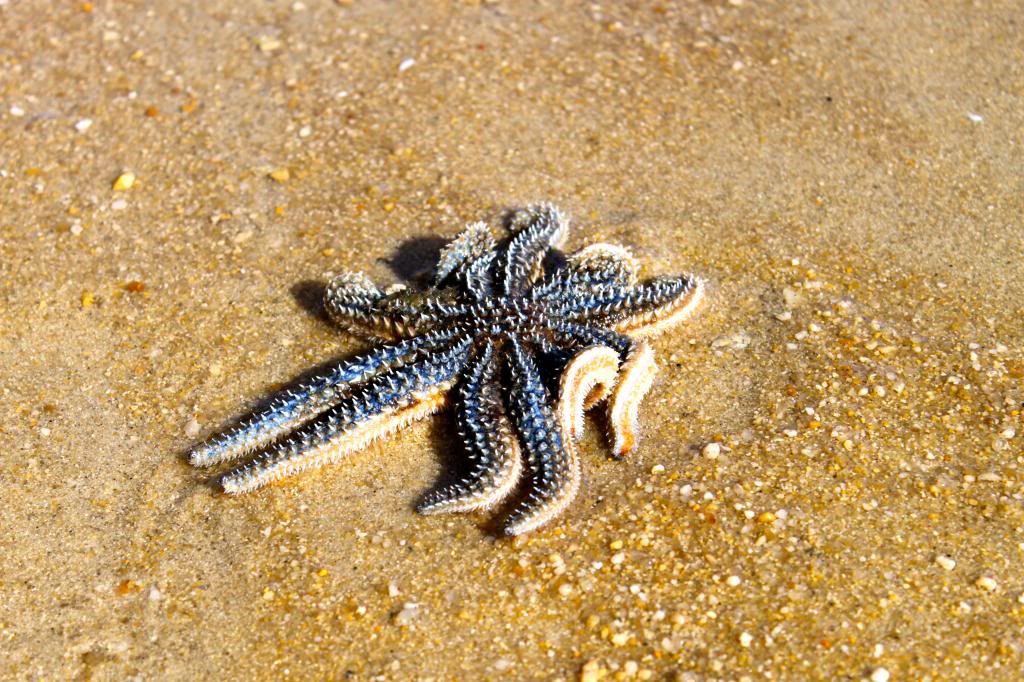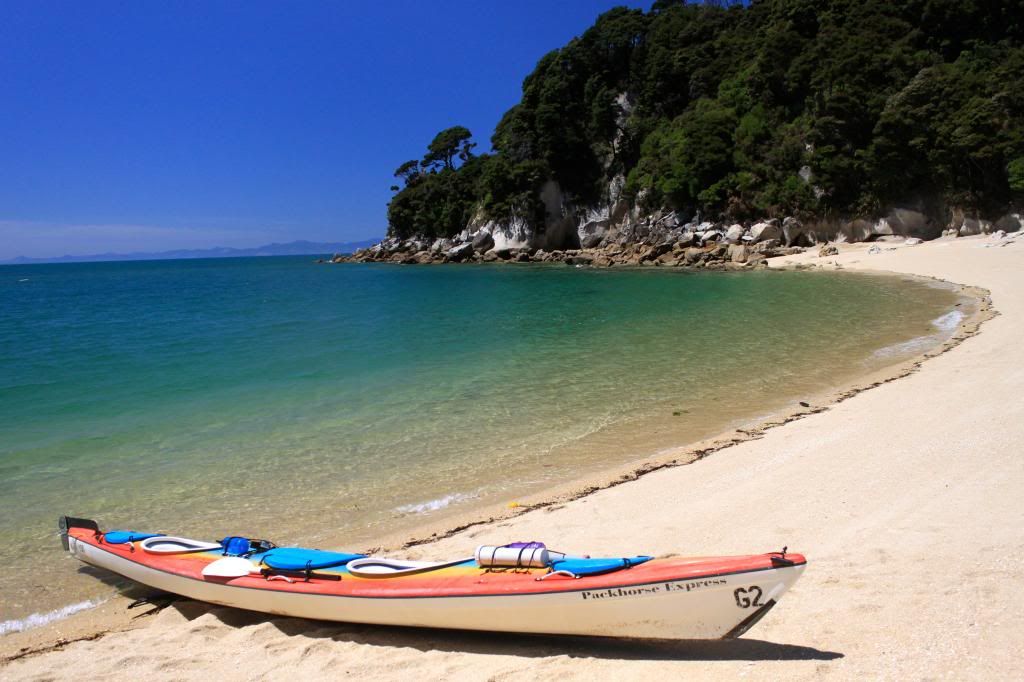 Our trusty kayak, the "Sea Bear"!
This guy let me have lots of breaks from paddling!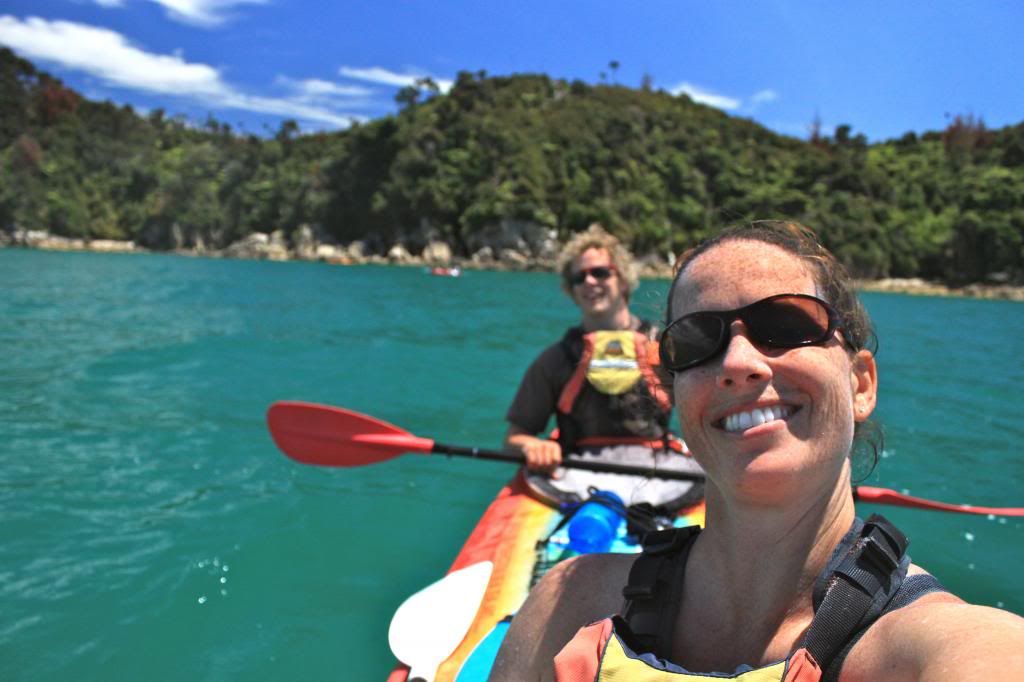 "Selfie"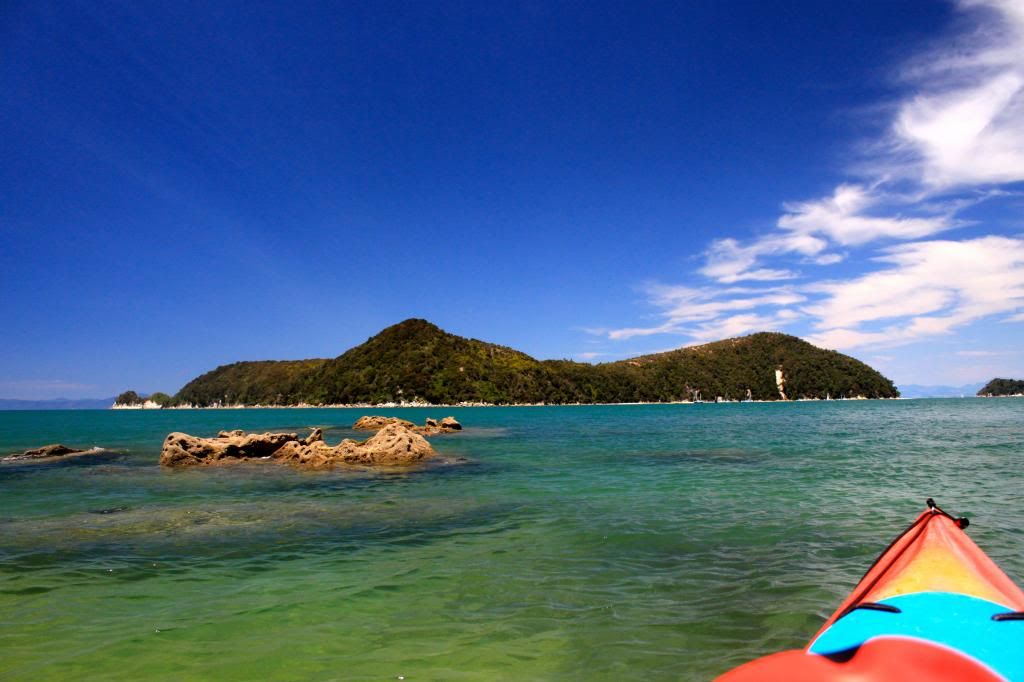 Overall we had a terrific visit to Abel Tasman National Park. I had spent very little time in a kayak before this trip, so I was a bit worried about how my chronically injured shoulders would hold up, but once I got warmed up they were generally fine. It helped tremendously that Erik is a good paddler and has experience kayaking!
One of the awesome things about kayak camping is that you can bring TONS of stuff compared to what you can carry on your back with walk-in camping. I think the "Sea Bear" holds over 300 liters, whereas my pack is a 55 liter pack and Erik's is a bit smaller than that. Generally when we are backpacking we bring simple food and only bring what we actually need because we are carrying it on our backs. In contrast, you could actually fit a cooler in the kayak, so we saw groups of people with gourmet meals and endless bottles of wine. Next time we have the chance to kayak into our campsites, I will certainly be more prepared from that standpoint! :)