After we finished our shortened version of the
Routeburn Track
, we headed straight to the airport to pick up Erik's sister, Carlie, who would be joining us for our last week in New Zealand. Unfortunately Carlie's bag did not make it with her, so we altered our plans for the next 24 hours in order to wait for her luggage to arrive. That night we had dinner at
Fergburger
, a place that Aussies and Kiwis rave about. Our burgers were good, but maybe a bit overrated considering we grew up in a country that knows how to do burgers! We stayed at
Adventure Queenstown Hostel
, where we spent the evening hanging out on the deck enjoying views of The Remarkables, a mountain range near Queenstown.
Carlie really wanted to bungy jump in Queenstown (home of the original bungy jump...which Erik did back in 2002 when he spent 6 weeks traveling around NZ), but due to recent weather (the crazy rain that caused us to modify our Routeburn Track hike), bungy jumping was not running. The
Shotover Jet
, a jet boat that is another popular "adventure" activity in Queenstown (the home of adventure activities!), was not running due to high water level, but they were hoping to start running the boats at 11am. We decided to give it a go even though there were warnings for people with head, neck, and back injuries due to the rough conditions. Our driver, Quinn, did a great job of making sure that we had fun on the Shotover. It helped that we had seats towards the front/side, so that when we went flying through the narrow canyon we felt like we were going to hit the rock walls while speeding by in the jet boat. My favorite part was the 540 degree turns that soaked us with water, of which Quinn did quite a few!
We spent the afternoon enjoying Queenstown before heading to the airport to pick up Carlie's bag, which arrived on the same flight she did, just a day later! At that point, we started our drive towards Milford Sound. The drive towards Milford provided us with breathtaking mountain views! Once we got close to Milford Sound, we started looking for a DOC campsite with available sites. There were a few along the way, but unfortuately we were finding that many were closed, again due to the recent heavy rains. Finally we found a site, Cascade Creek, that was a bit busy but certainly got the job done.
Gorgeous views of mountains and Lake Wakatipu!
Views approaching the Milford Sound area.
I had a slight obsession with these flowers at our campsite.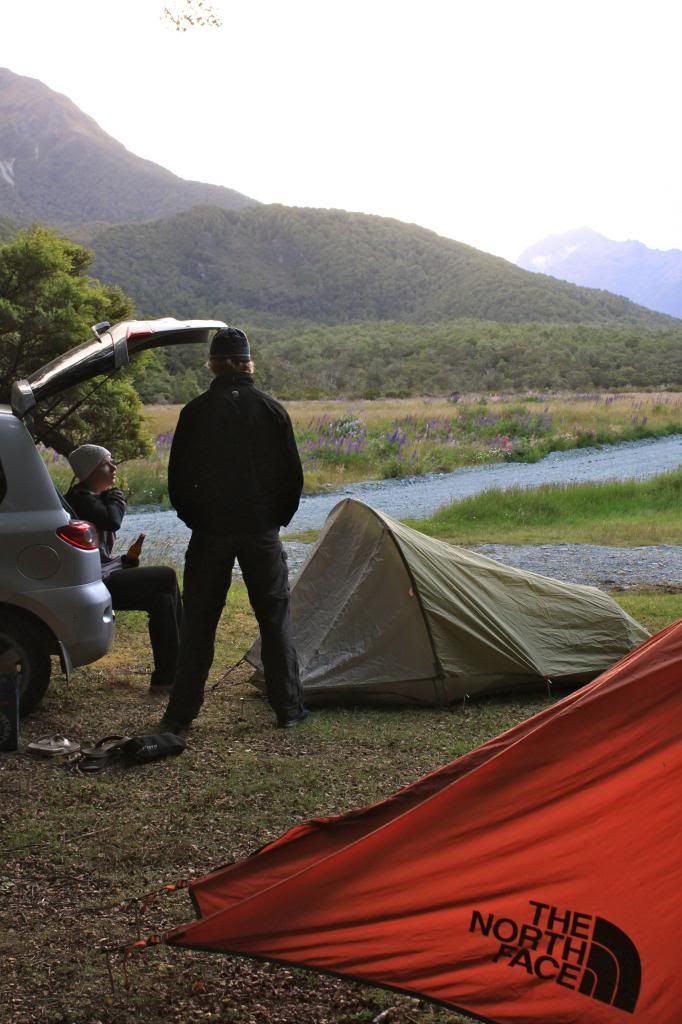 Time for some sibling bonding!
Ironically we ended up running into the two American guys who we met during our night of camping on the Routeburn Track. Small world! That night it rained A LOT. Thunderstorms, lightning, and heavy rain plagued our night of camping. Erik and I woke up to lots of rain in our tent. Carlie, fortunately, stayed dry. Despite the rain, we charged on to Milford, where a day of kayaking on Milford Sound awaited us!