On our last night in New Zealand, we had intended to camp somewhere in the Arthur's Pass area. However, it was extremely cold once we got into the mountains, as there had been snow down to 1400 meters overnight (Arthur's Pass is a small town at about 800 meters elevation), so we ended up getting a dorm room at
Mountain House YHA
. In the morning, we tackled two hikes, one longer steep climb to Temple Basin and another shorter trek to the Devil's Punchbowl waterfall. It was a gorgeous day to be outdoors and we soaked up as much sun and fresh air as we could before getting in the car to head to Christchurch.
Temple Basin
Devil's Punchbowl Waterfall
The road through the middle of the South Island from Greymouth to Christchurch provided us with amazing scenery. Along the way we stopped for lunch at a stunning location just a few minutes off of the main road. The views made me sad that we had to leave such a beautiful place!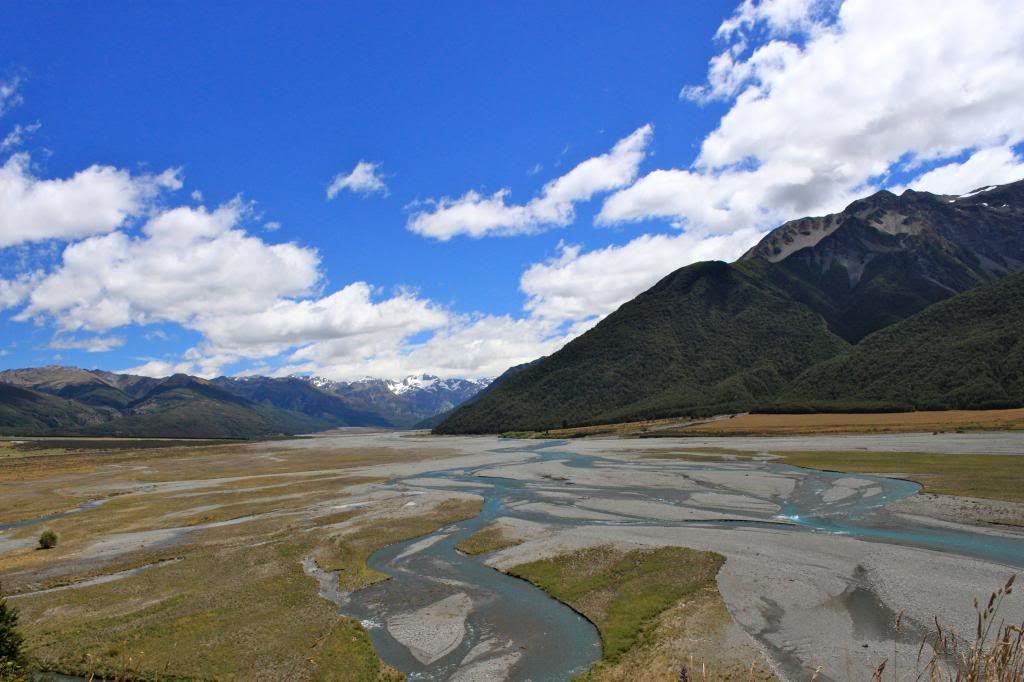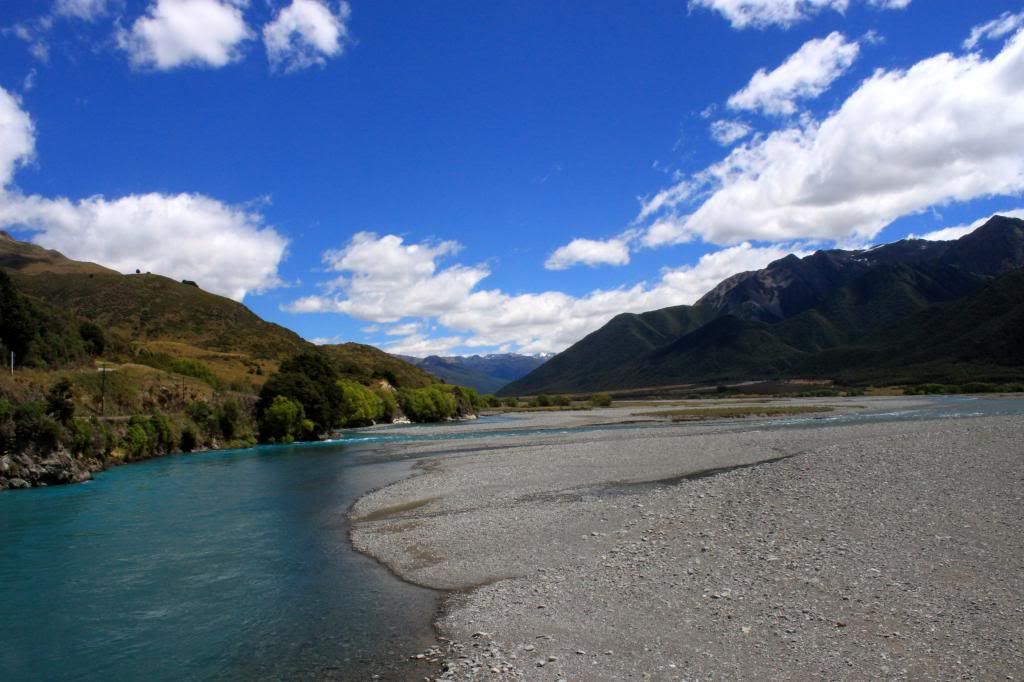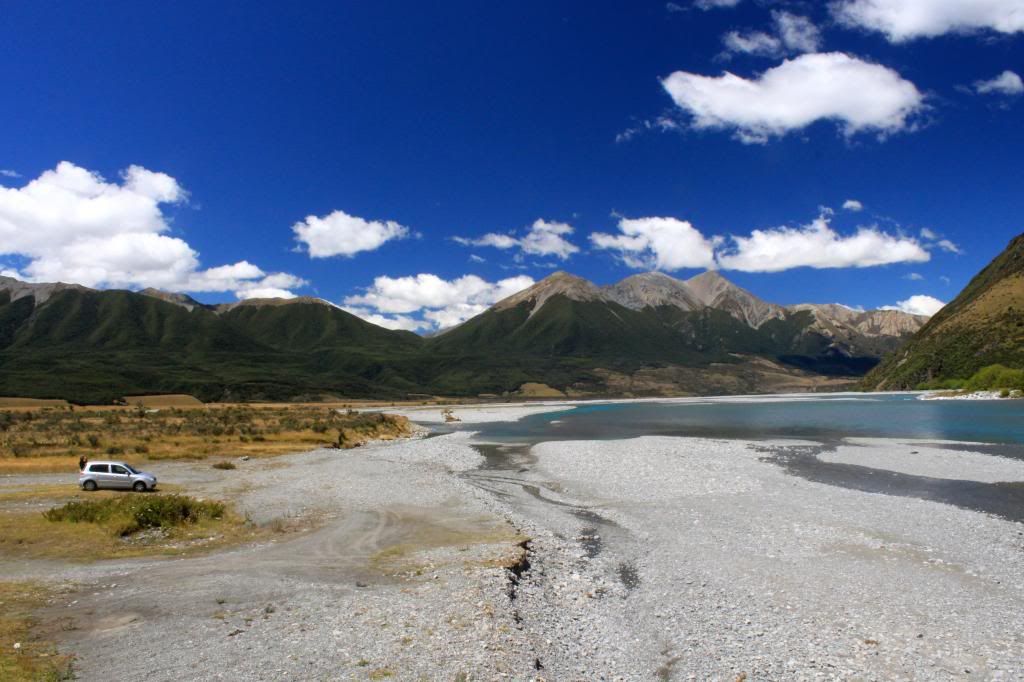 Our rental car treated us to this lovely lunchtime view!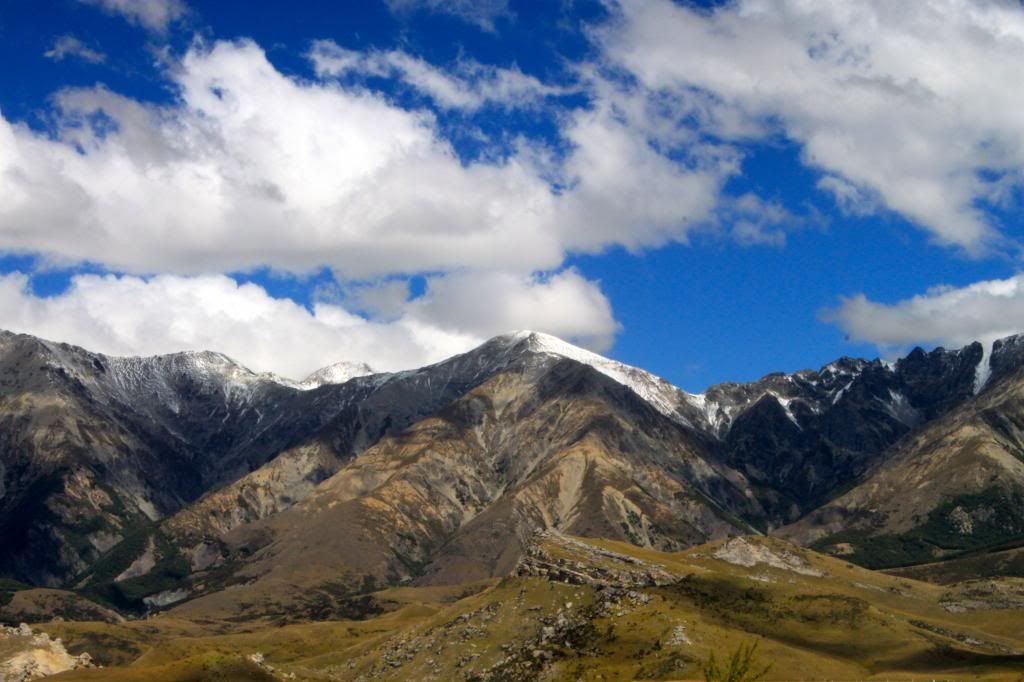 Goodbye, Southern Alps!
Within a few hours we were back in Christchurch, ready to hop on our plane for the short flight back to Melbourne. I put together a map of how we traveled around each island, trying to put circles at most of the places where we stayed overnight.
New Zealand is a country that caters well to travelers, with "iSITES", or visitor information centers, found in even the smallest of towns. I also loved that each and every town we drove through had relatively clean public toilets, usually right on or just off of the main road. Erik and I thought that New Zealand seemed a bit more "Americanized" when compared with Australia in terms of food, as we were able to find streaky bacon (the closest thing we have found to American bacon here!) in nearly every grocery store and we even encountered canned black beans, which we have NEVER seen in Oz! Interestingly, the Kiwis and Aussies even have different words for certain objects. For example, flip flops in Australia are referred to as thongs, but in NZ they are called jandals. We ended up buying a "chilly bin" to keep our food cold while on the road, not an "esky", as they are commonly called in Australia, also known as a cooler to us American folk.
At first I was disappointed that it was taking me so long to write up these posts about our travels in NZ, since that is essentially all I have been writing about since we returned in late January. However, each time I sat down to write a post, I got to re-live our experiences, reading the notes I had jotted down along the way and looking at the pictures, which instantly brought back wonderful memories of our trip. I feel incredibly fortunate to have had the chance to spend several weeks in such a beautiful country and I hope you have enjoyed reading about our travels. So though I am sad to see the posts about New Zealand coming to an end, I am excited to share some of our more recent Aussie adventures with you too!