Merry Christmas! Technically Christmas is over here, as we are well into the 26th, known as Boxing Day in Australia. Boxing Day is similar to Black Friday in that most stores have massive sales, and Boxing Day is also known for a big cricket match held in Melbourne every year at the Melbourne Cricket Ground (MCG). This year we woke up in a tent on Christmas morning, the last of three nights spent backcountry camping in
Wilsons Promontory National Park
, affectionately known as "the Prom" to Australians (in case you were wondering, Australian secondary schools do not have "proms" like we have in the States, so no confusion there). We have been wanting to check out the Prom for a while, but it is a good three hour drive from Melbourne, so I thought it would be good to dedicate more than a weekend to exploring the area.
We did not get a very early start on Saturday morning, as it had been a busy week of finishing up work before a long holiday for Erik on top of lots of Christmas parties to attend for both of us (the Aussies do not mess around when it comes to Christmas parties!). Originally we had planned on a 7am departure, but we missed that by a few hours! At any rate, we arrived at the Prom in the early afternoon hours to be greeted with lush green forests and beautiful beaches.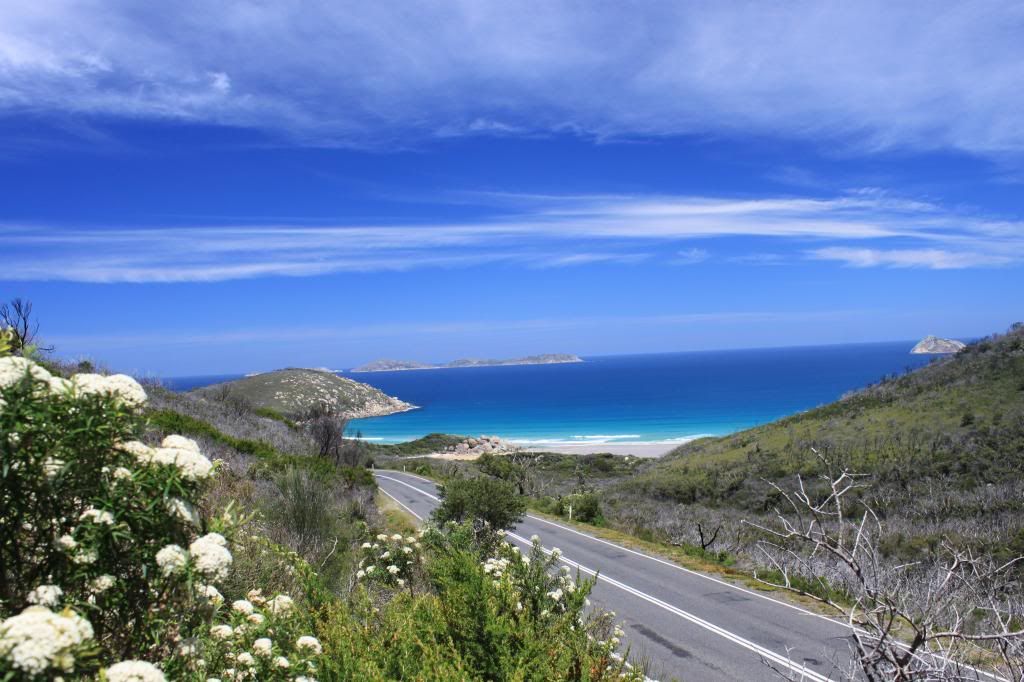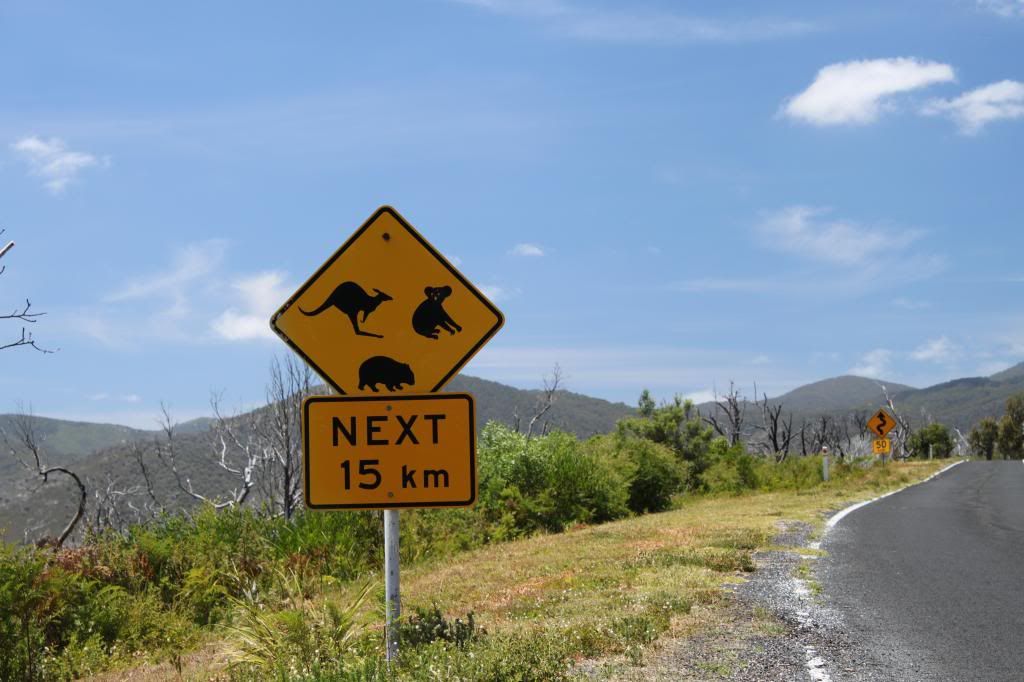 This is the first time I have ever seen an emu on a sign. The bottom animal is a wombat, which we were hoping to see on this trip but we were not so lucky. We did see a few "sleeping" wombats on the side of the road, but those don't count!
Upon arrival, we ate lunch and took the free park shuttle up to the top of Telegraph Saddle, where we would begin a "short" hike to our accommodation for the night. Our hike that day was about 12 kilometers, or 7.5 miles, mostly downhill with a little bit of climbing towards the end. We camped at a backcountry site called Roaring Meg, conveniently located next to a freshwater stream. On Sunday, we got an early start, as we had 24 kms (15 miles) to hike that day. I have to take the blame on setting such ambitious distance goals for each day, because the way that I generally convert kms to miles is to cut them in half. Clearly that is NOT a good way to calculate, because three extra miles is a lot when you've already walked 12! The tracks that day were filled with lots of ups and downs, a visit to a lighthouse, some nice coastal scenery, much-needed rest stops, walks through towering forests, and numerous wildlife encounters.
Our first view of the lighthouse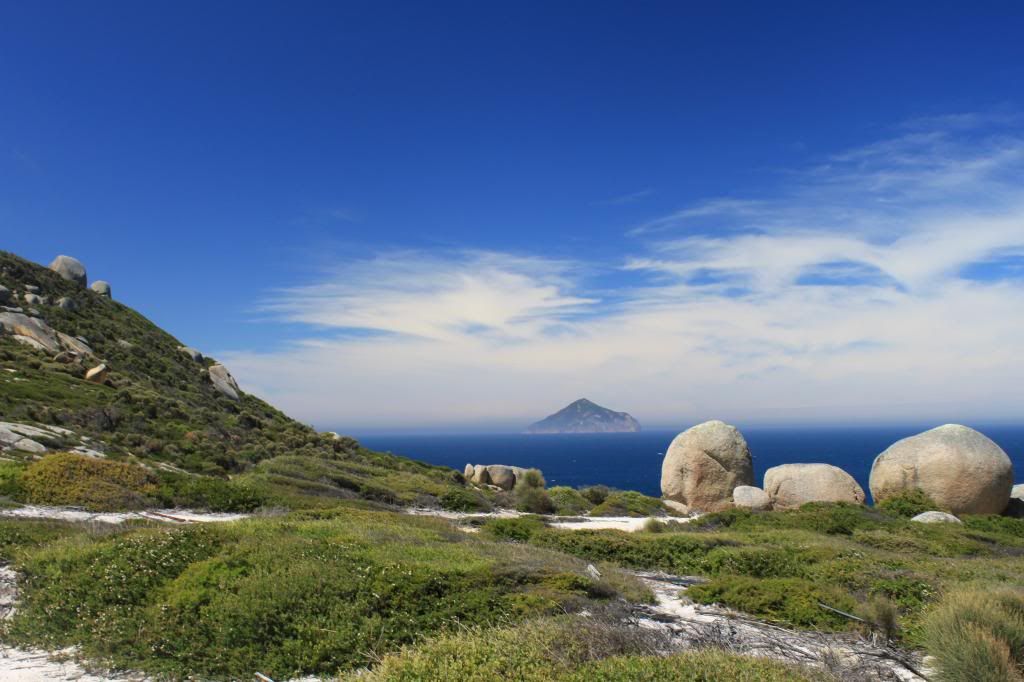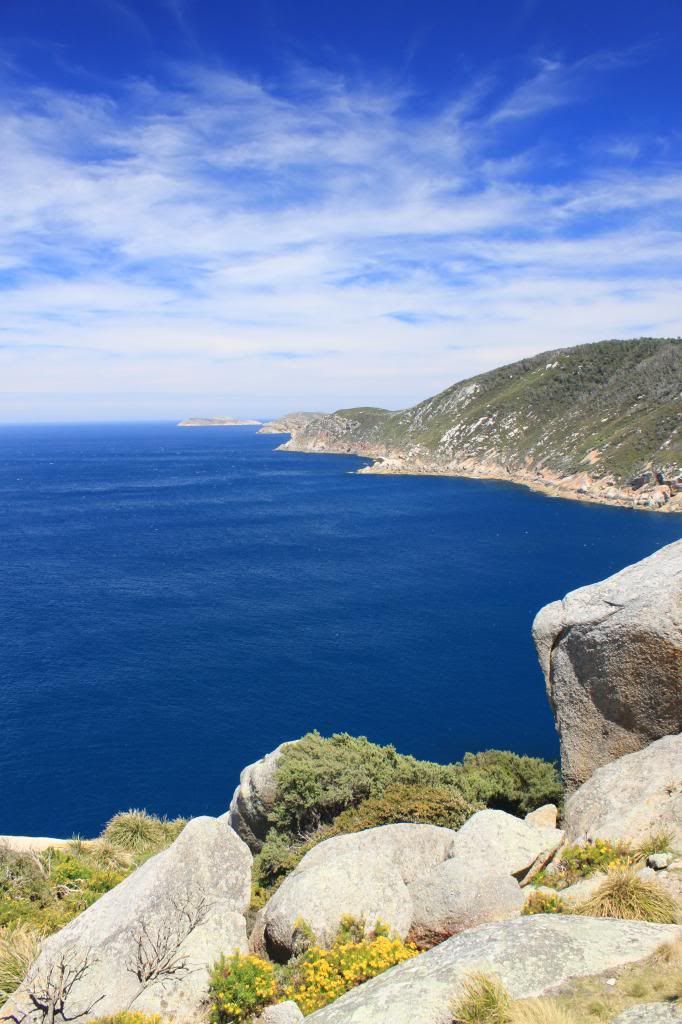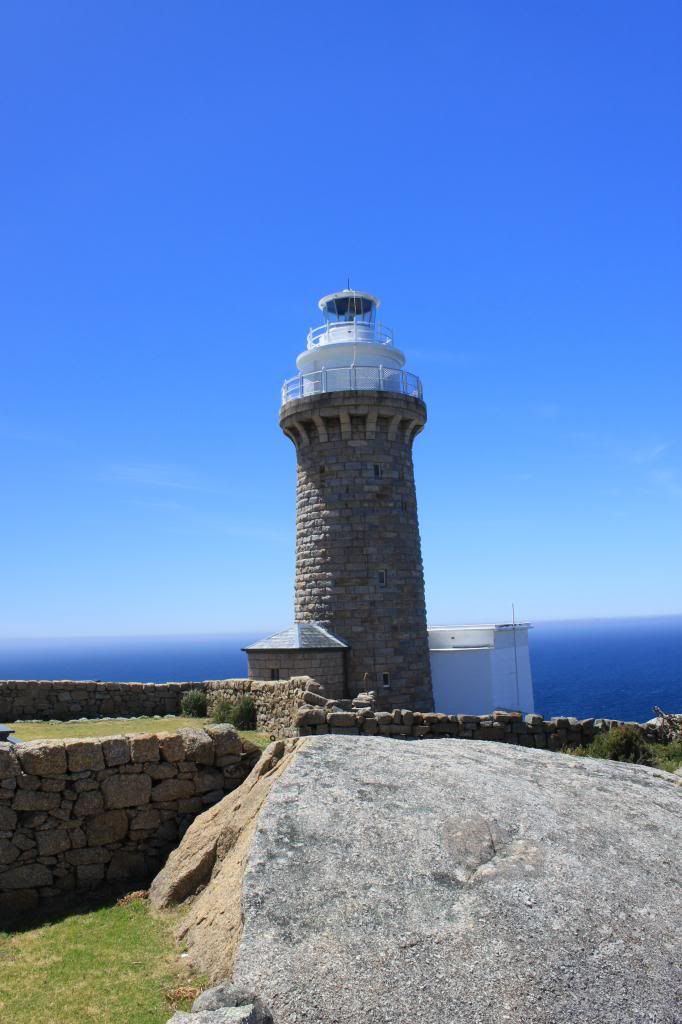 You can actually stay in cottages on the lighthouse grounds instead of camping, but you still have to hike to the lighthouse to get there, as there are no roads within the park in this area.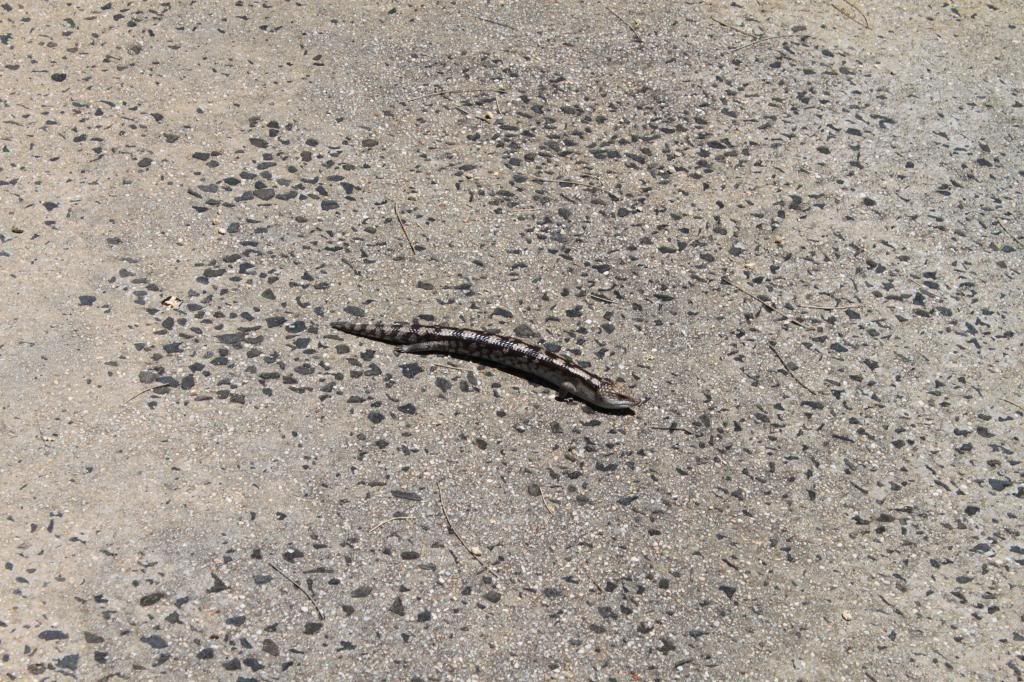 Look how well this blue-tongued lizard blends into the walkway!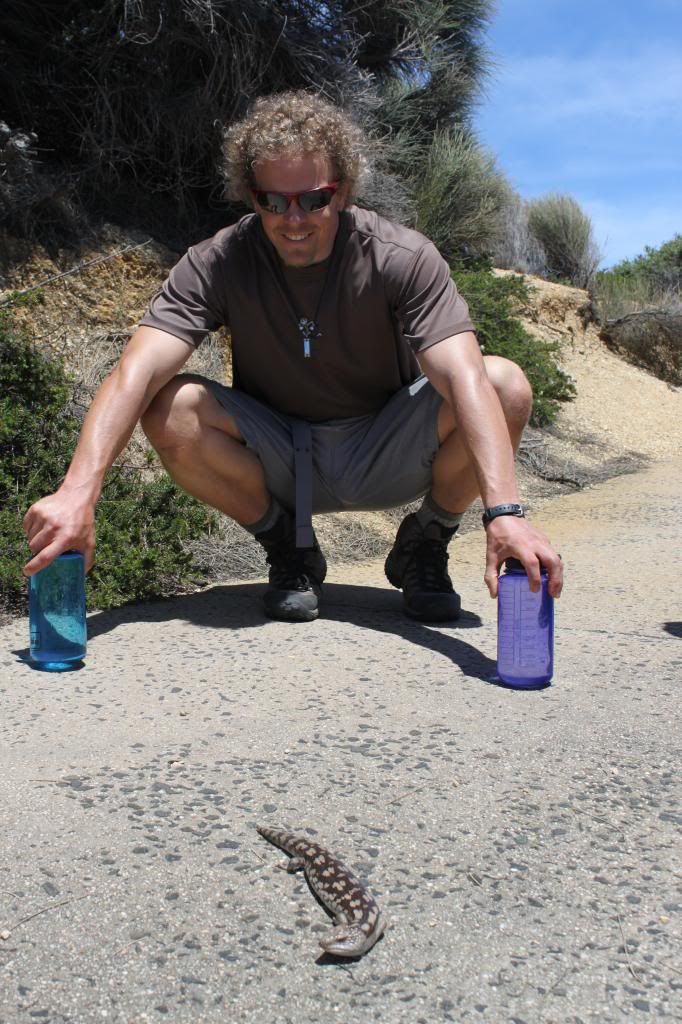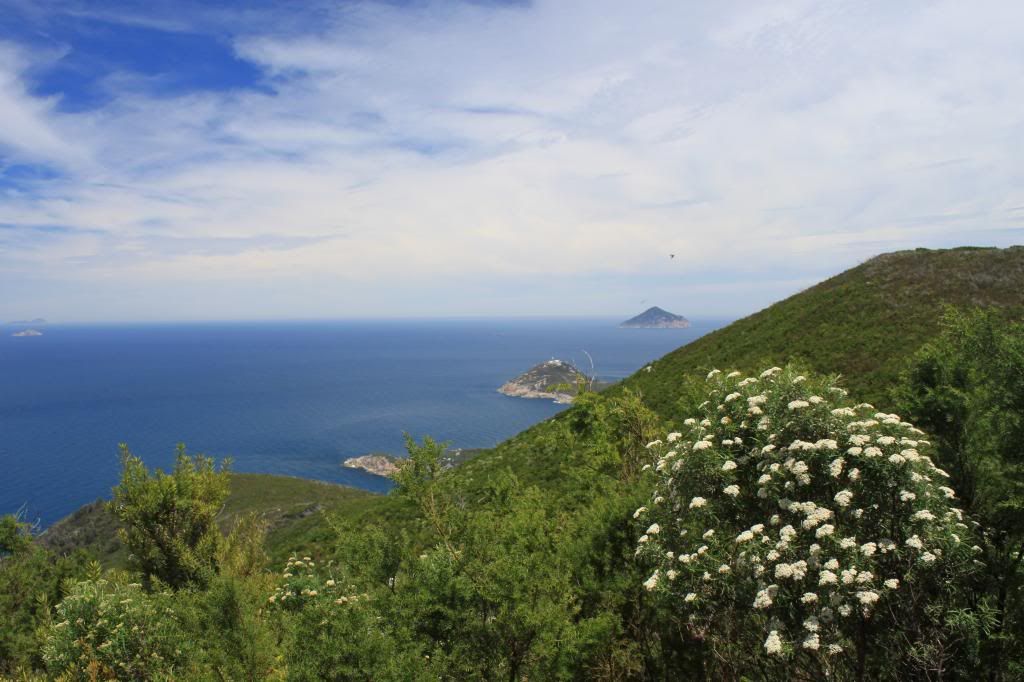 The lighthouse from the "other" side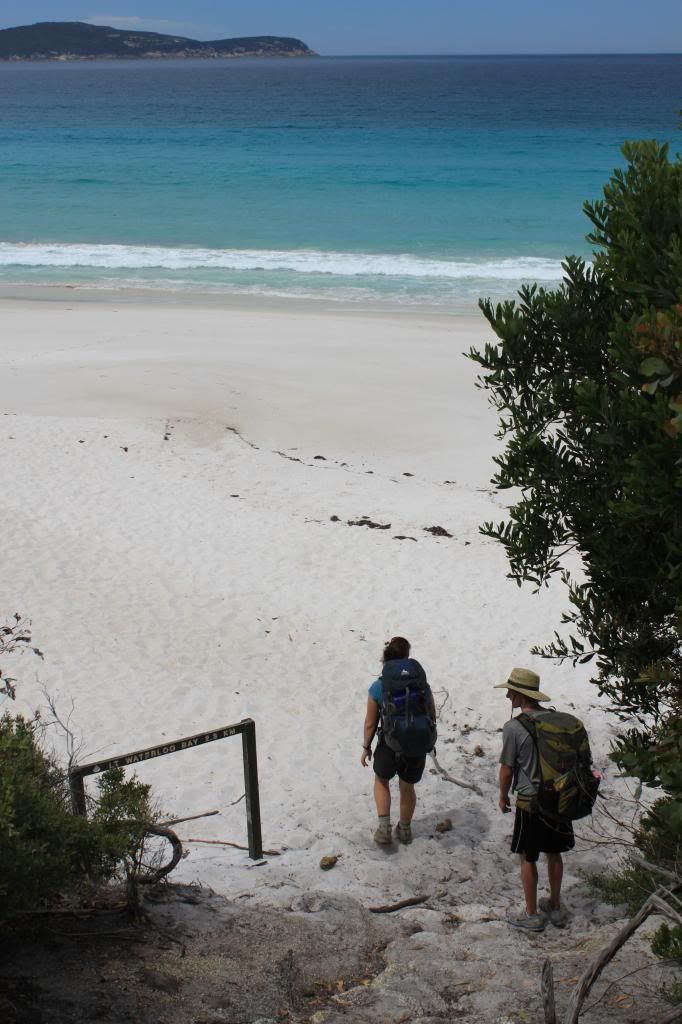 Stepping foot onto Waterloo Bay beach...still a few more hours of hiking to go at this point!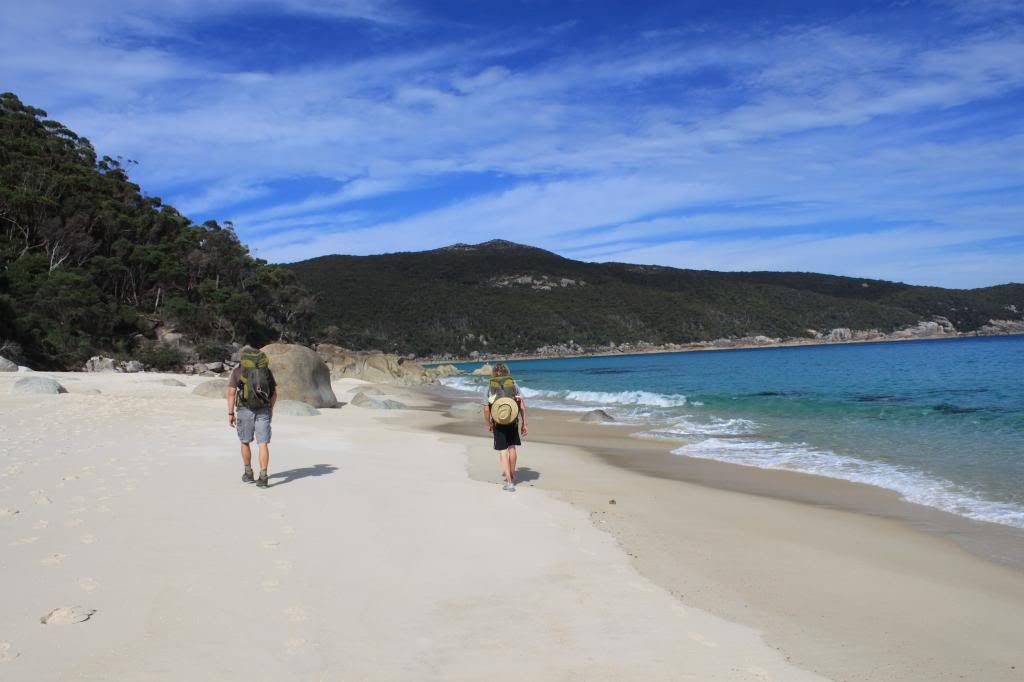 We crossed several gorgeous beaches during our four days of trekking.
Once we arrived at Refuge Cove, our campsite for the second night, we plopped down our bags and immediately headed into the ocean for a bit of relief from our long day of walking. This campsite was probably the nicest of our trip...lots of towering trees to sleep under, a minute or two walk to the beach, and only two other tents besides ours in the area.
Our campsite at Refuge Cove was just beyond the sand and into the trees.
We were slow to start on Monday morning given our big hike the day before, but we still had a good 16 kms (10 miles) to walk in order to get to our campsite for that night. The first two hours of hiking were backtracking along part of the walk we had done on Sunday, but the last few hours were mostly easy miles across flat, sandy tracks, bringing us to Oberon Bay, where we would spend Christmas Eve. Unfortunately the weather was not as nice on Monday, so it was a bit cool during the evening hours, but on Christmas morning we woke up to sunshine and warmer air, ensuring that we could get in a Christmas morning swim.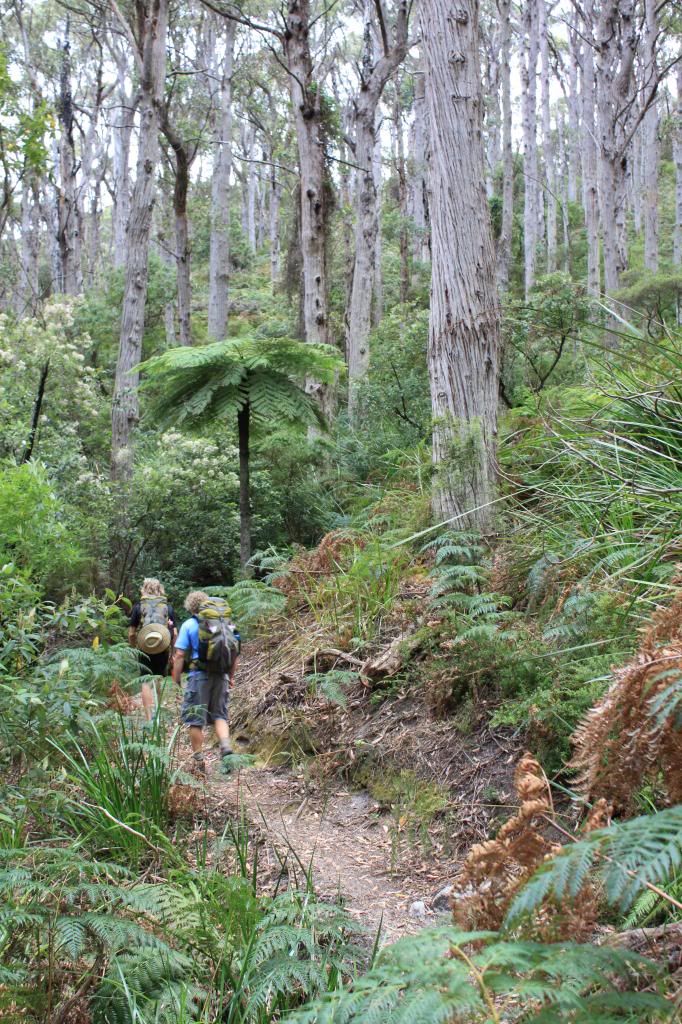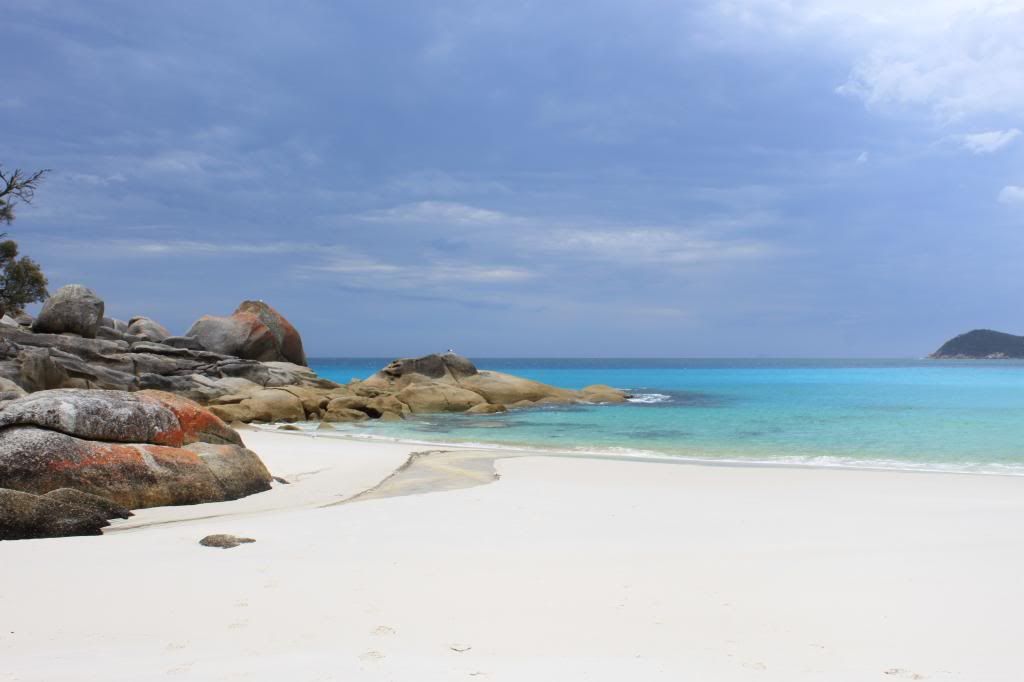 Little Waterloo Bay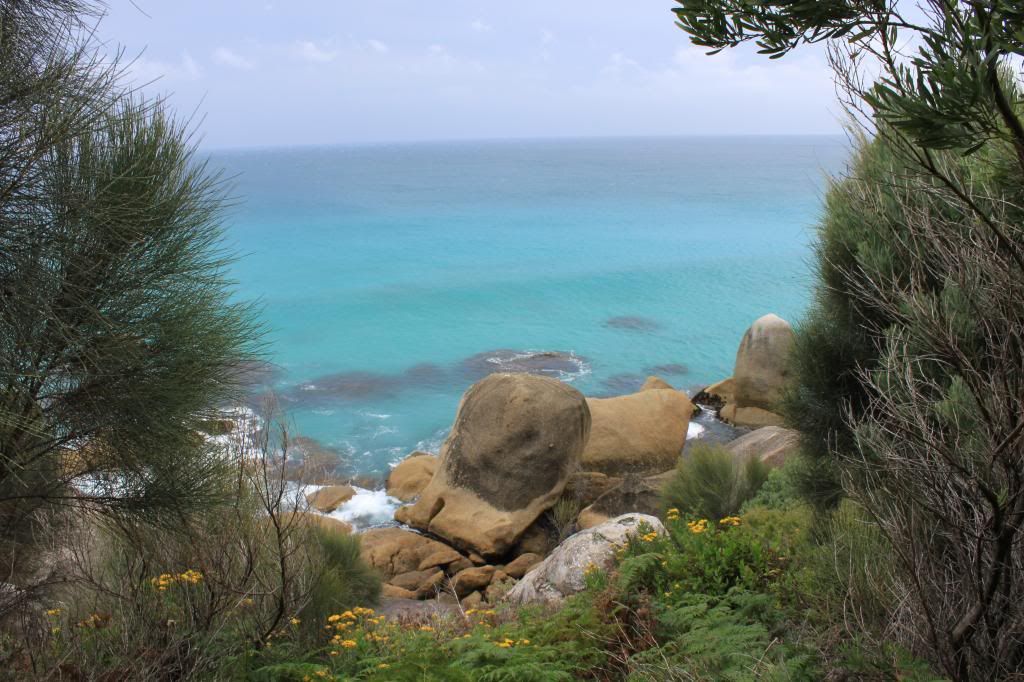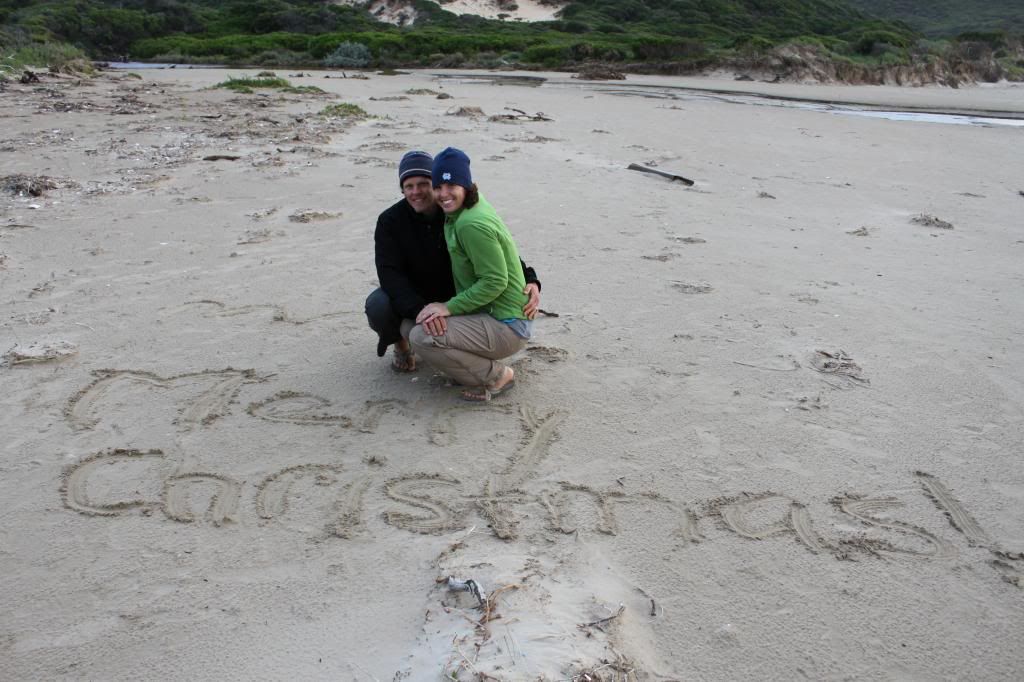 On Christmas morning we had about 8 km (about 5 miles) to hike in order to get back to our car. The views on this hike were some of the best of our trip, so it was a pretty easy few hours of walking. Once we arrived back to where we started, we quickly changed into our swimwear and headed out into the ocean for a quick dip!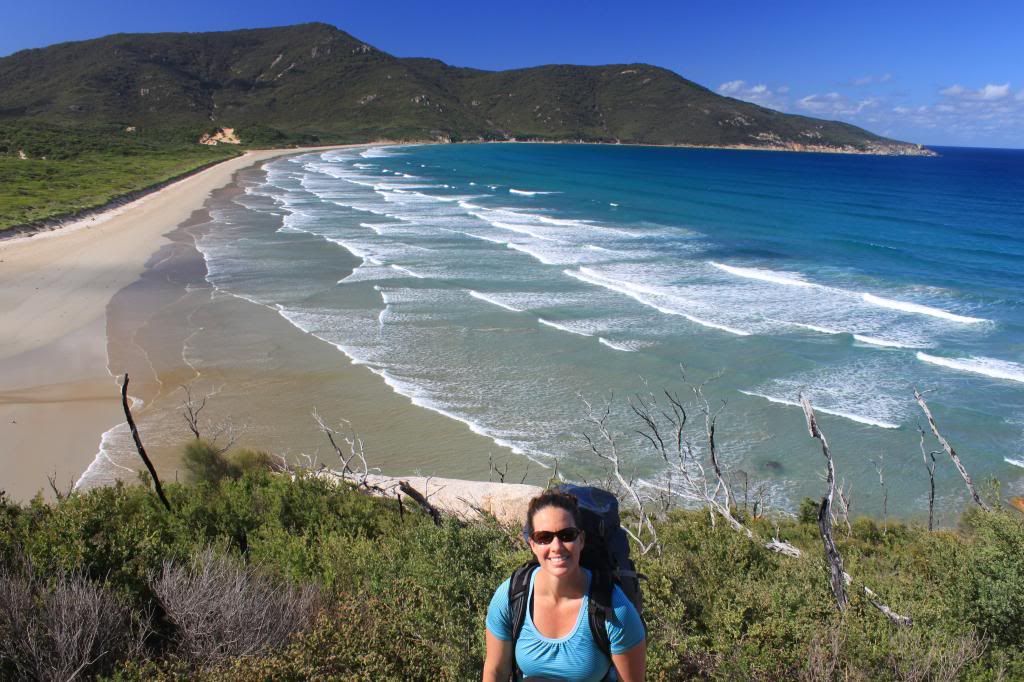 Oberon Bay. Our campsite was at the far end of the beach.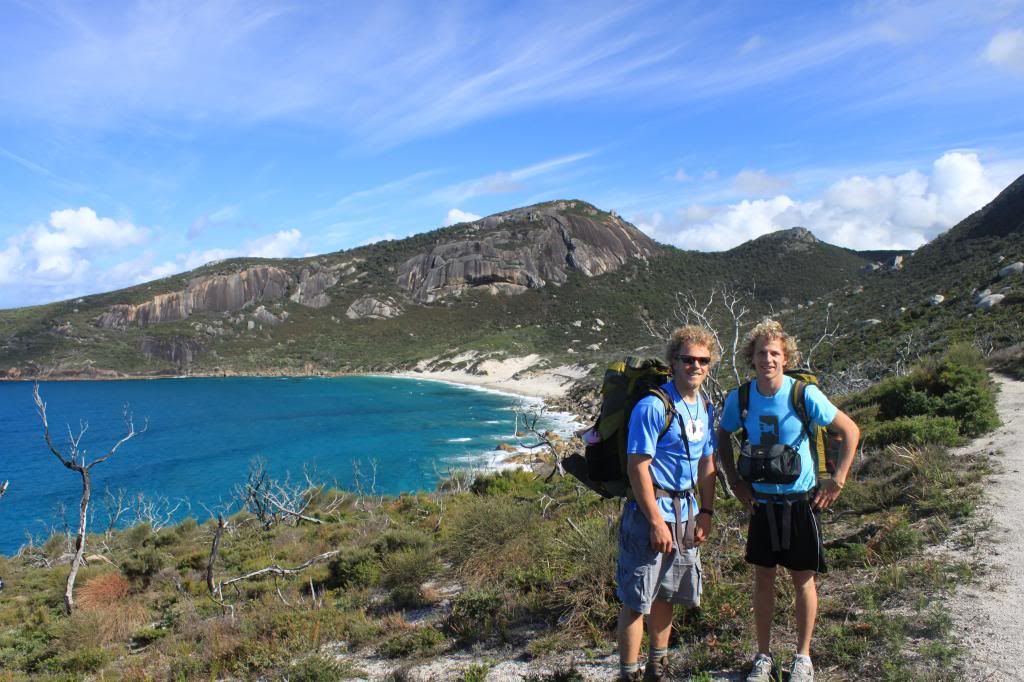 Brothers!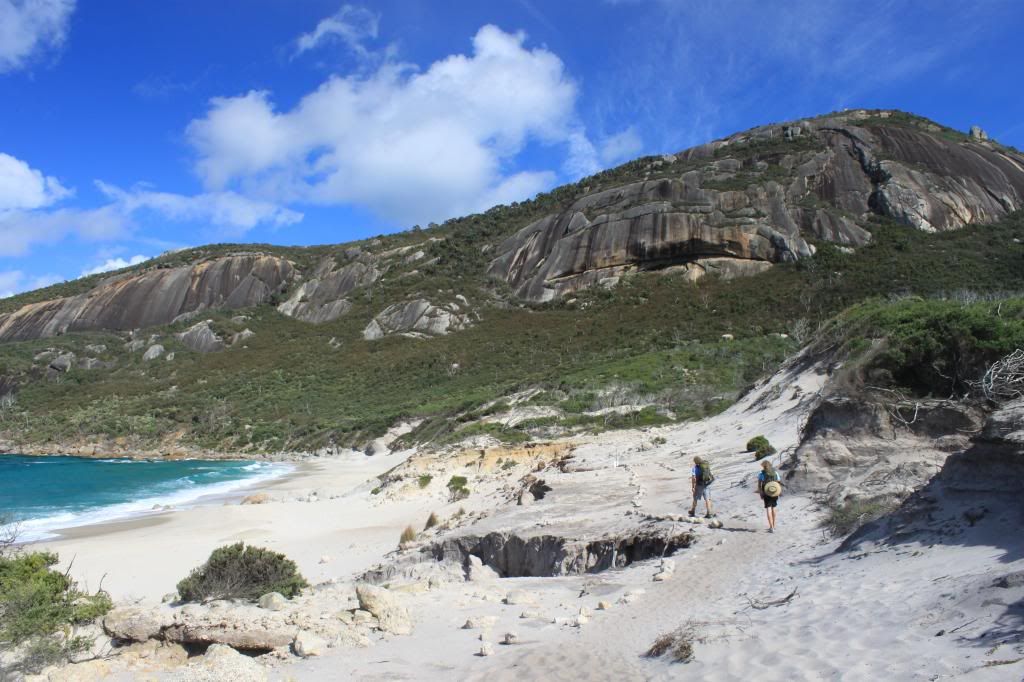 Hiking down to Little Oberon Bay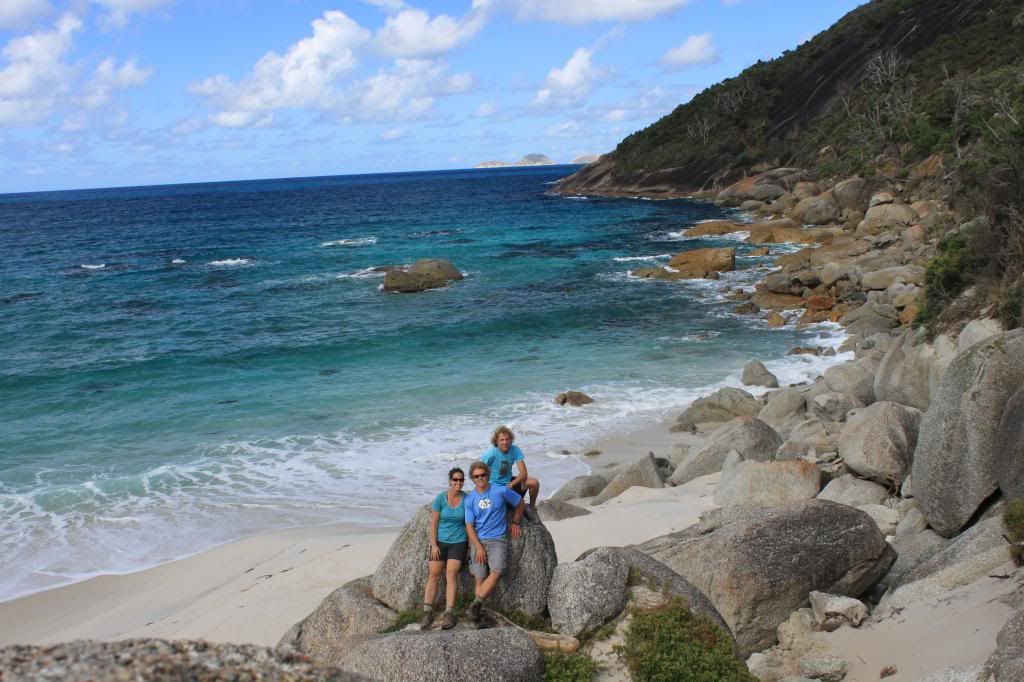 Little Oberon Bay
Blue water and blue sky!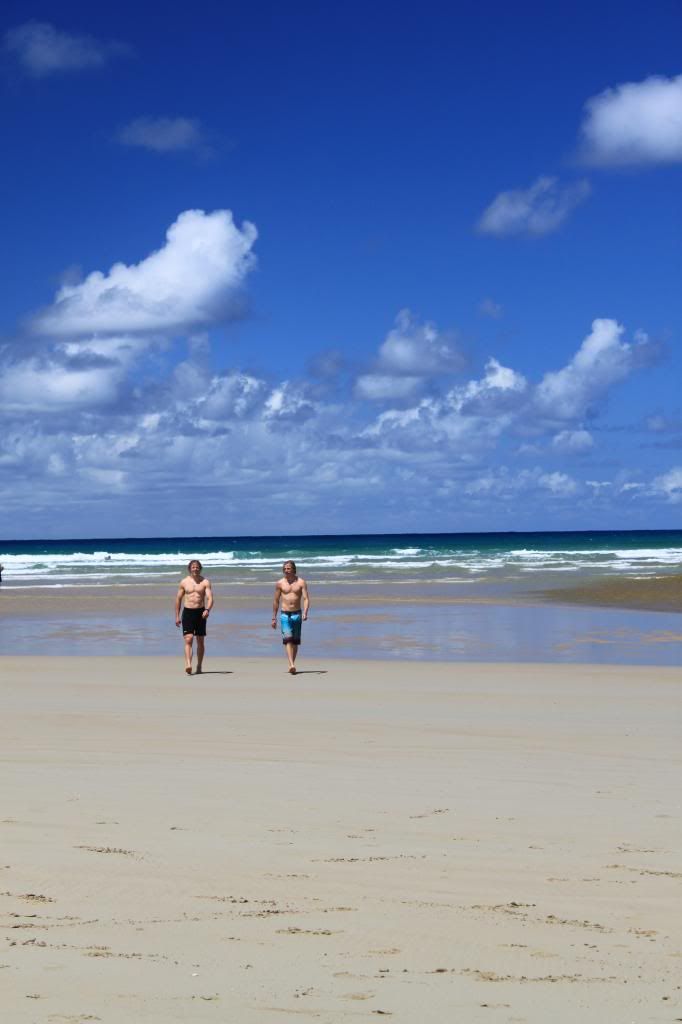 The boys returning from their swim in the ocean at Norman Beach
Overall, we had a great trip to the Prom, as it is set up well for hike-in camping. The backcountry sites have water access (though you need to be able to filter/treat the water) and most have basic long drop toilets. Despite my full-on itinerary of hiking, I think everyone in our party had a good time. It was our first encounter with snakes in Australia (except for the one I saw running
last year
), and fortunately all of the snakes that we came across retreated quickly and were not interested in being close to us. We are not sure exactly what types of snakes they were, but we determined one was probably a tiger snake given its appearance and their presence in the Prom. No
koalas
,
wallabies
, or kangaroos in our campsites this time though, only possums trying to eat our food! We did see a few wallabies and kangaroos along our hikes, one particular exciting moment when we saw a joey who was a bit startled by us and then jumped head first into her mom's pouch. Pretty cool! This was my longest hike-in camping experience and while it certainly is easier to hike without carrying everything on your back, I think the chance to access places that take a bit more "work" to get to is a nice reward for a hard day of hiking!