Lots going on here in Oz these days, so I have not had much time to write about our New Zealand trip. As soon as we returned from NZ, we had family in town (sister-in-law, Carlie and mother-in-law, Jill), so we almost immediately headed down to the Great Ocean Road and then returned to Melbourne, only to leave for five days to visit Far North Queensland (home of the Great Barrier Reef). In addition, I started a new job the day after returning from traveling, so life has been a bit hectic, albeit very fun and exciting over the past few weeks!
Our plans for New Zealand were very roughly organized, a first for me because I LOVE to plan and hate not knowing exactly where we are staying or where we will be on any given night. However, Erik assured me that it would be okay and after a few days of uncertainty at the beginning of the trip, I learned that he was right. We knew that we had just over a week to spend on the North Island and just over two weeks on the South Island. We also knew that Carlie would be joining us for the last week of our trip. Furthermore, we had booked our rental car, our ferry trip from the North Island to the South Island, and a few campsites on some of the "Great Walks", which are very popular during the summer holidays and needed to be reserved.
We flew into Auckland and immediately hit the road on our drive towards the Coromandel Peninsula. Given our short time on the North Island, we had to decide between visiting the Bay of Islands and the Coromandel region, and we chose the latter because it seemed to be the less touristy choice and also seemed to offer more "on land" choices. The night before we left Melbourne, I booked our first night of accommodation through Airbnb. Airbnb is essentially people who rent their homes out to travelers, and we lived with Airbnb hosts for our first six weeks in Australia.
The first night was spent in the adorable beach town of Hahei, and our Airbnb host was great about giving us tips for our stay in the Coromandel area. We woke up ready to do some exploring, starting with a walk to Cathedral Cove.
The track to Cathedral Cove winds along the coast.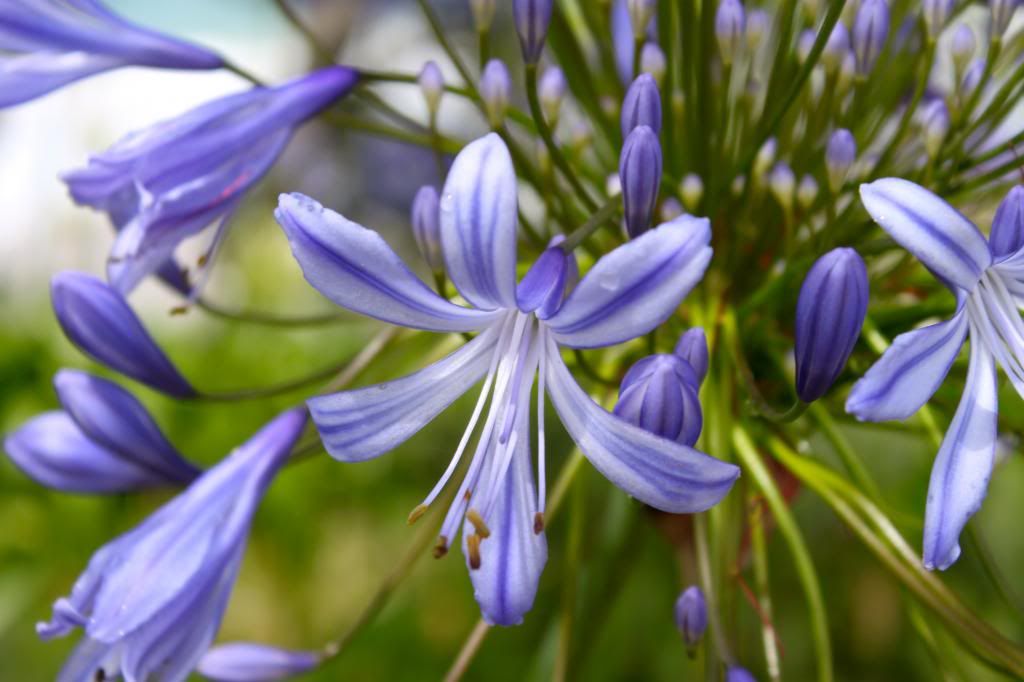 These flowers (in both purple and white) line roads and paths all over NZ, particularly on the North Island. Upon our return to Australia, I noticed that we have quite a few of them here as well!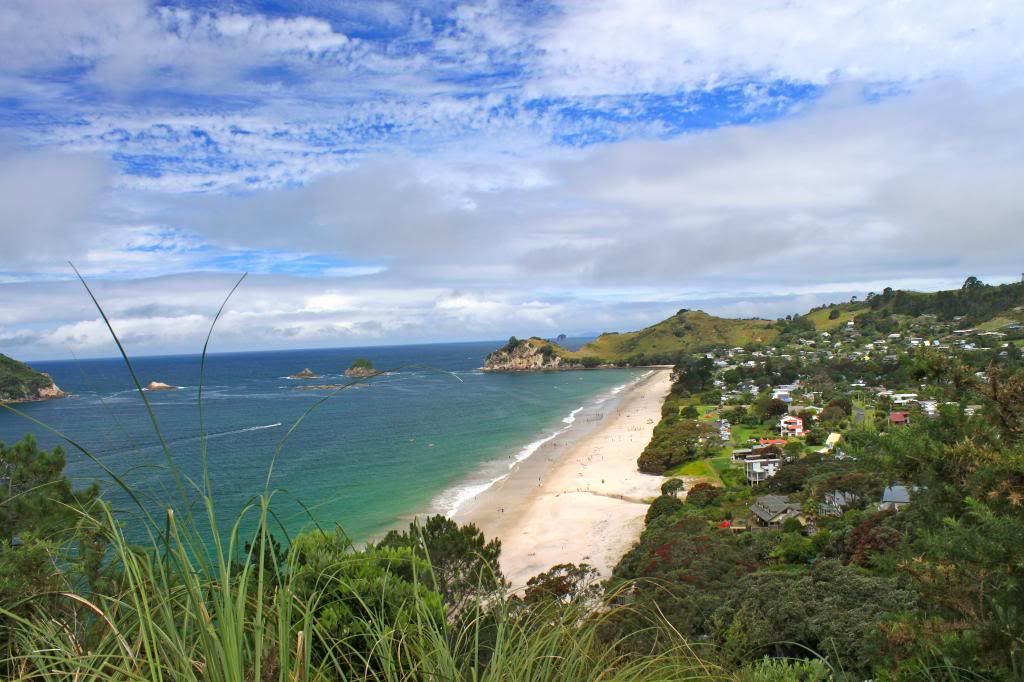 The beach town of Hahei from above.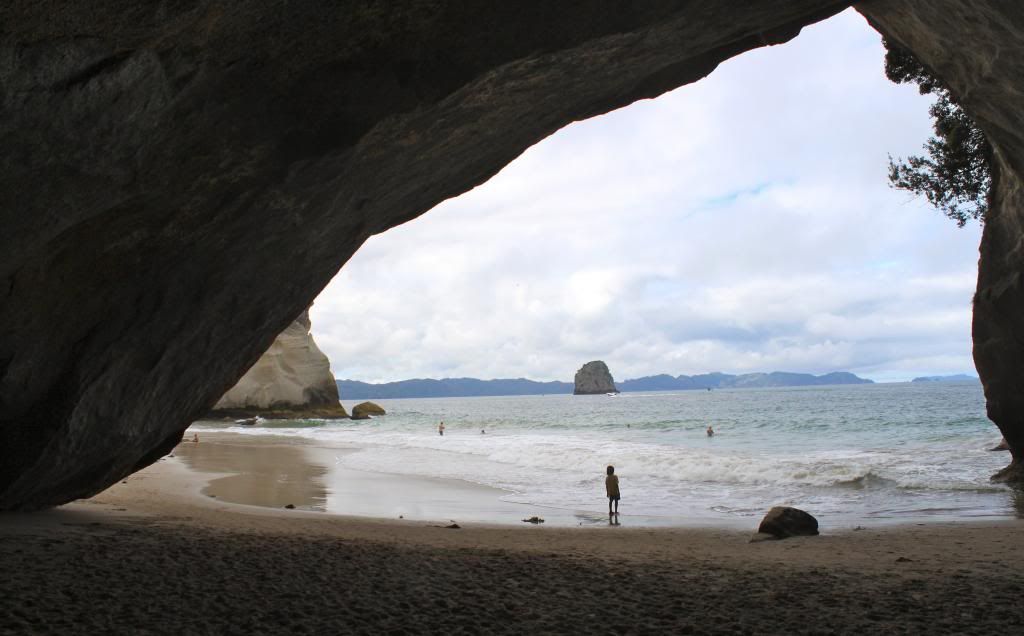 Cathedral Cove. Site of where characters re-enter Narnia in The Chronicles of Narnia: Prince Caspian.
After our walk, we headed in the direction of Hot Water Beach to check out the hot water pools that can be created due to hot springs under the sand's surface. We borrowed a "spade" (aka shovel) from our Airbnb host so that we could dig ourselves a spot, but we quickly discovered that pools had already been dug. Some of the pools were just luke warm, but some were extremely hot (the water can get up to 145 degrees F!), and after a little bit of searching we found ourselves a nice spot. Obviously this is an extremely touristy thing to do, but it is free and the hot water feels quite nice given New Zealand's temperate summer climate.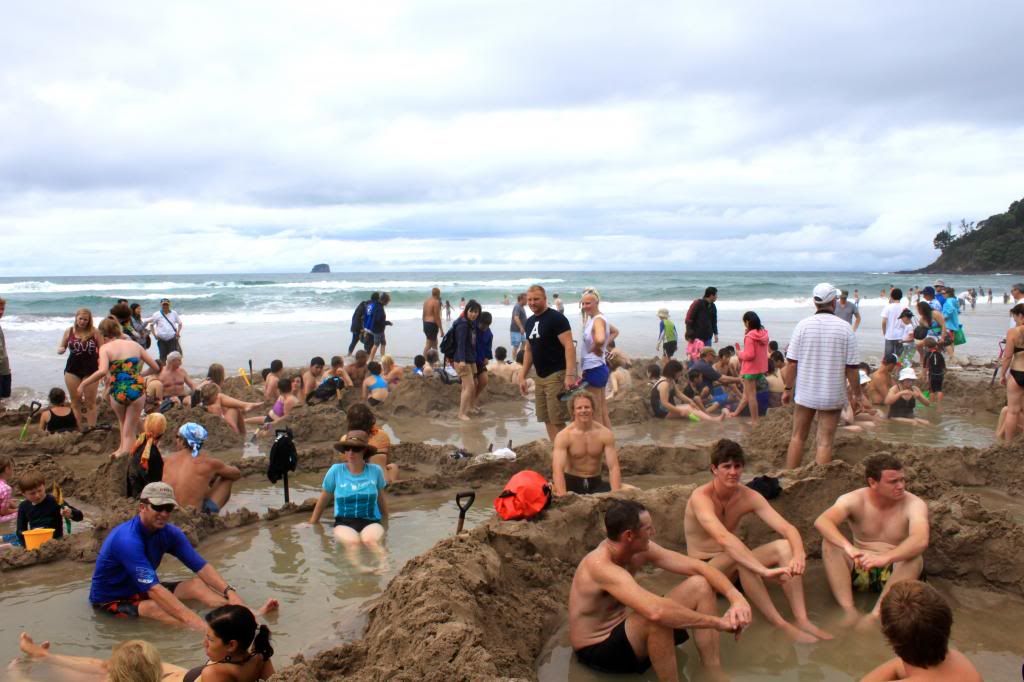 That evening, we drove through winding mountains with stunning views to end up in Coromandel Town, where we found a place called Tui Lodge that would let us pitch our tent on their grass for a small fee. The town itself was quaint and quiet and with mountains in the background, and we enjoyed our surroundings while eating dinner at a Thai restaurant (one of the few open for dinner after 8pm).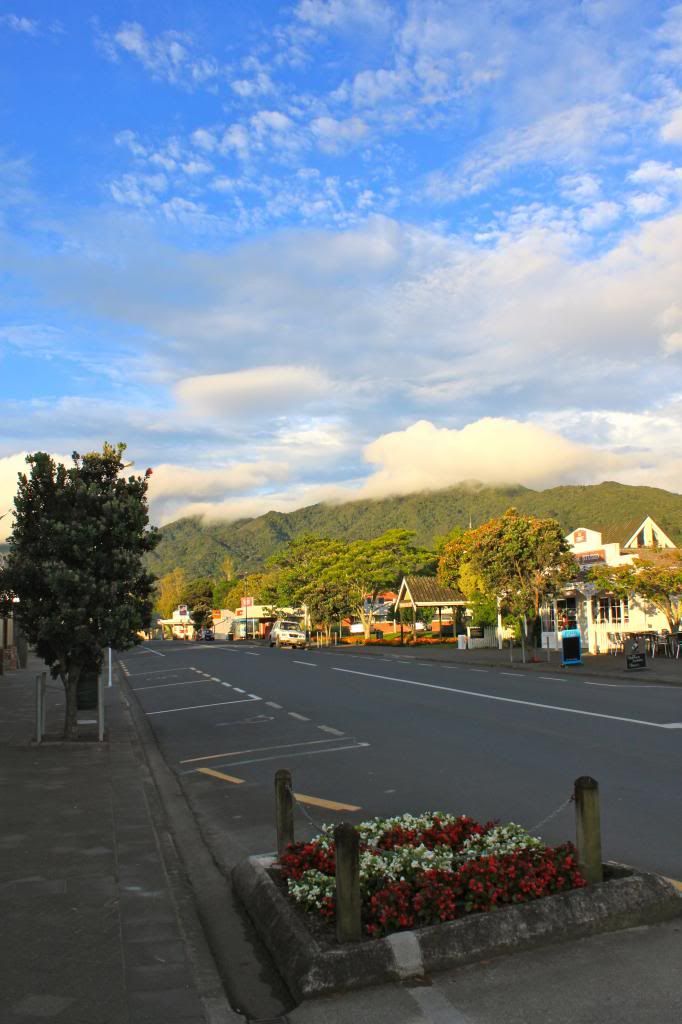 View from our dinner table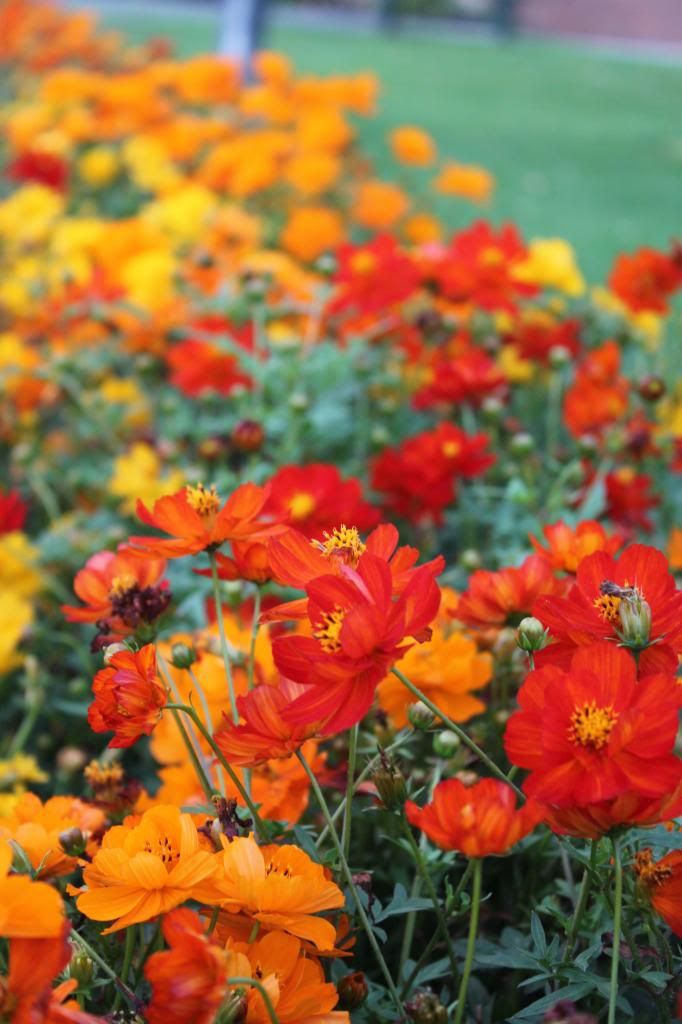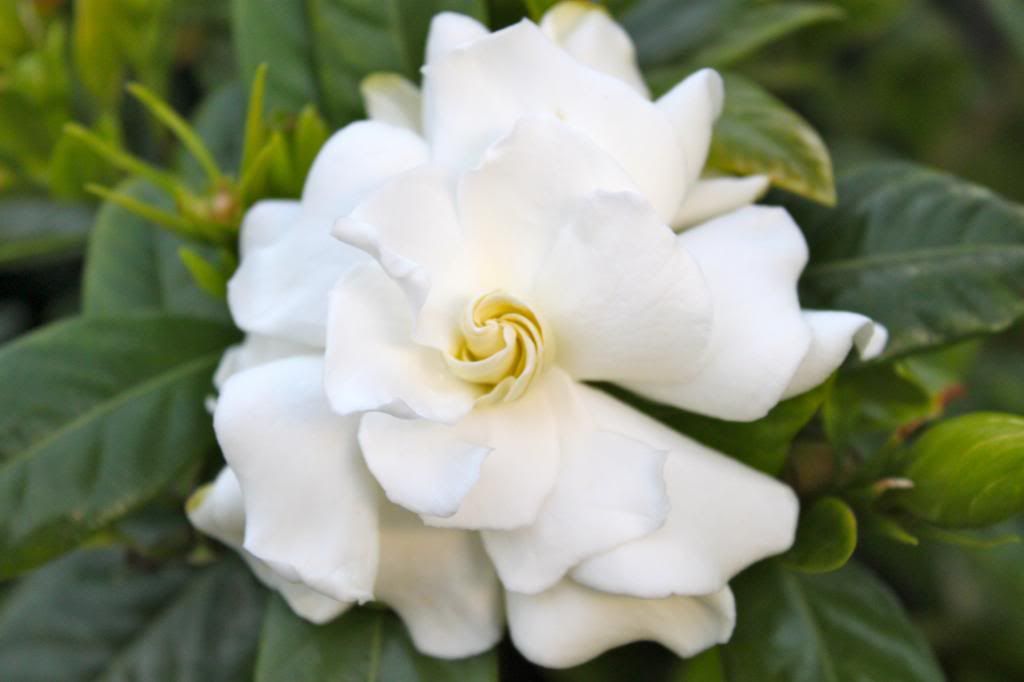 Back at the lodge, we met an older German couple who we chatted with for a while. The man is a retired teacher and leads bike tours in Munich and his feedback about Americans who signed up for his tour was that they did not know how to ride bikes! Kind of a scary thought...makes me think the States should add bike-riding to physical education curriculum so that we can ensure kids learn how to ride bikes!
View from our accommodation in the evening. The first of many sheep sightings, of course!
In the morning, we set out on another drive with breathtaking views, this time of the coastal variety.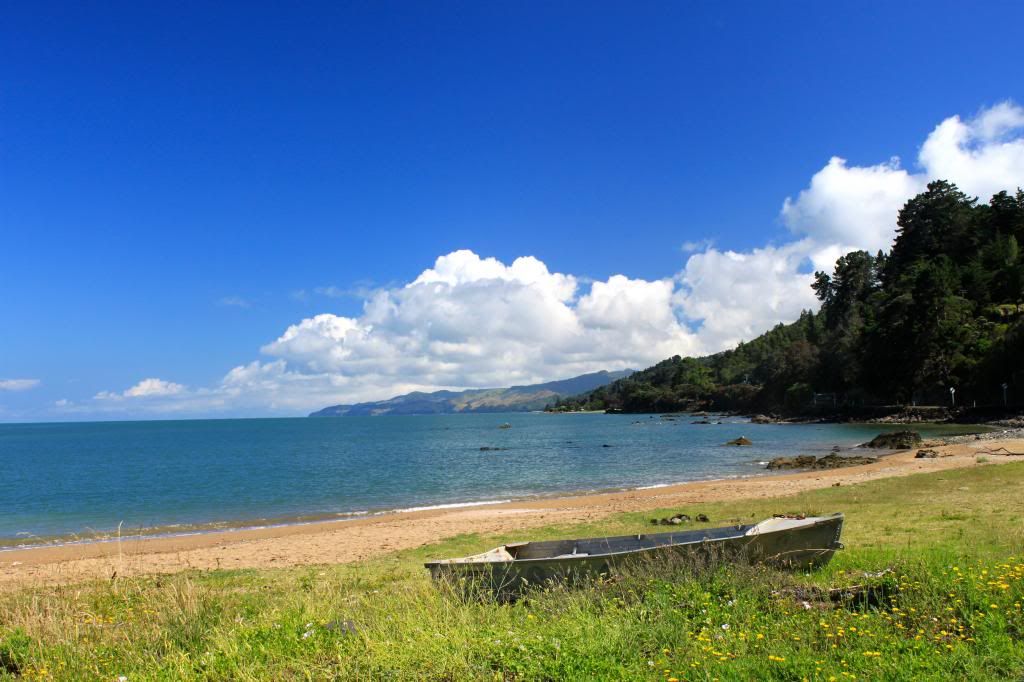 Much of the coast was lined with Pohutukawa trees, commonly known as Christmas trees in New Zealand, as they bloom right around Christmas time, adding vibrant color to the area.
We drove through the town of Thames to reach the Coromandel National Forest, where we completed a "trek" (the Kiwi word for "hike") called the Pinnacles Track. The hike provided us with nice views, which is good because it was a steep climb up to the top!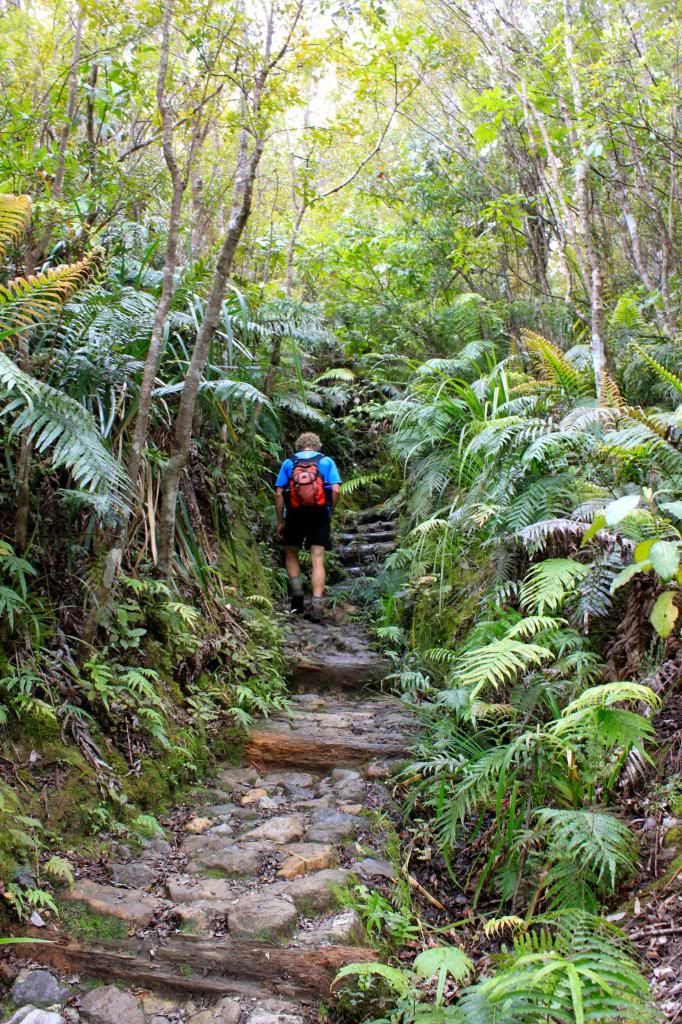 Ferns everywhere!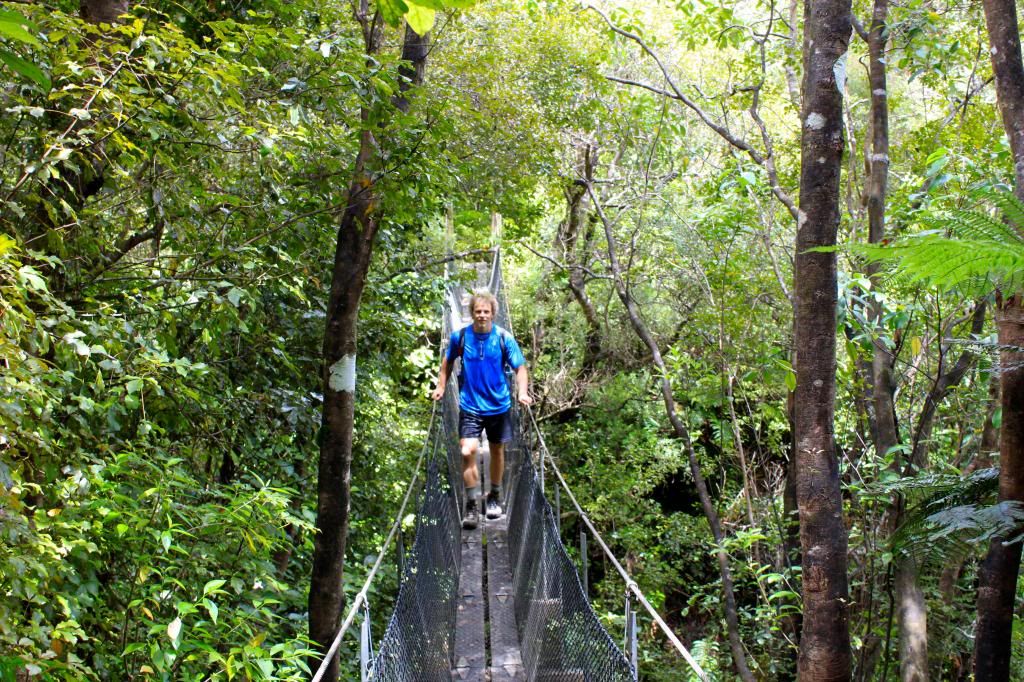 The first of MANY cool suspension bridges we walked across in New Zealand!
"The Pinnacles" in the background...still a little distance left to hike to the top!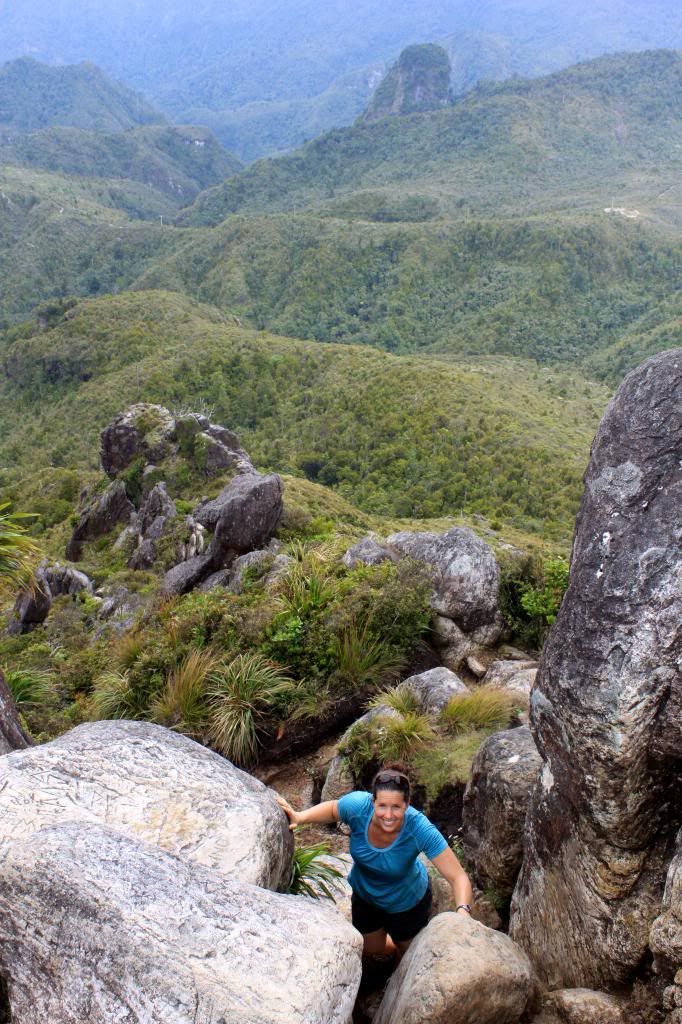 Nearly there! Had to scramble up a few rocks to reach the top.
Views to one coast...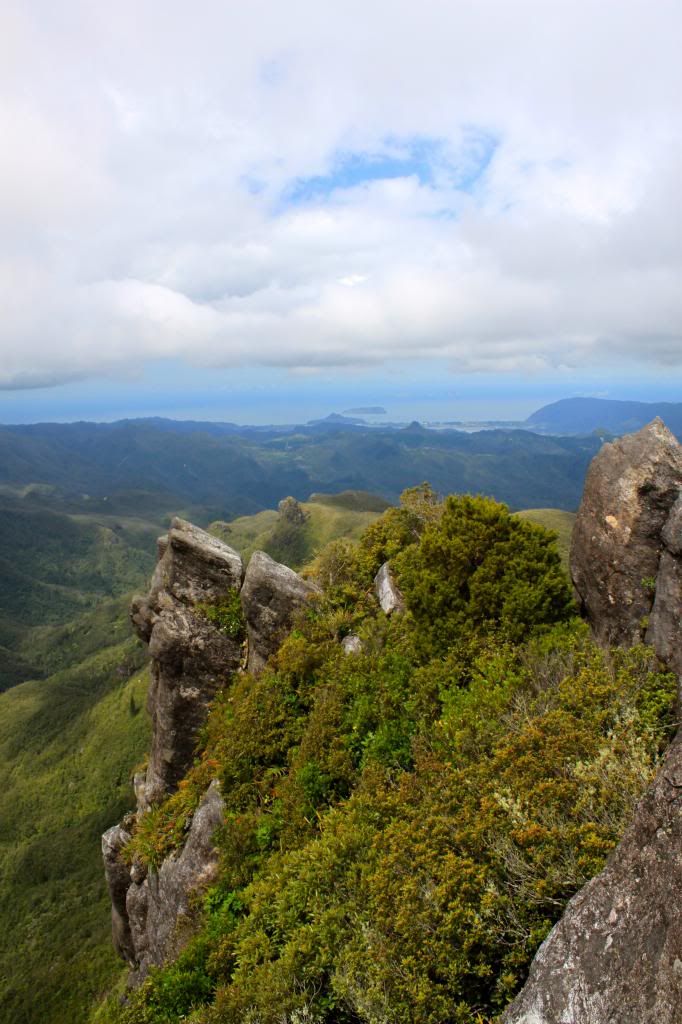 ....and to the other coast.
The return track took us about seven hours to complete (including some time spent up top admiring the views), so we were happy to have a short swim at a nearby swimming hole called Hoffman's Pools, where the water was cold but refreshing. There was even a spot for some cliff jumping!
That night we camped at a New Zealand Department of Conservation (DOC) campsite within the National Forest, our last night on the Coromandel Peninsula before heading south.